Hi! We're Paris Permenter and John Bigley, a husband-wife team of professional writers and longtime cat lovers. Today we share our home with four cats: our boys, Linus and Lucky, and our girls, Inca and Coco. (We also share our home with our dogs, Tiki and Irie, the inspiration for our DogTipper.com sister site.)
About CatTipper.com
Updated daily, CatTipper.com features cat tips, product reviews for cats and cat lovers, cat news, celebrity cat rescue, Adoptable Cat of the Day, special events, and more. Together with DogTipper, we conduct daily giveaways of interest to pet lovers.
CatTipper has a special emphasis on cat adoption as well as ways to save money on pet care.
About Paris and John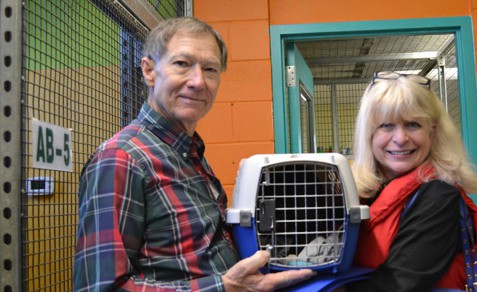 Adopting our cat Lucky at Austin Pets Alive!
For 20 years, we specialized in travel and business writing and authored 30+ books for publishers ranging from Random House to Globe Pequot. Since 2008, we've been specializing in a subject very close to our hearts: pets.
Through our career, we've appeared on numerous television and radio shows and in newspapers and magazines as expert guests including the Fine Living television network, USAToday, The Wall Street Journal, Everyday with Rachael Ray, Redbook, Forbes.com, Men's Health, and others. Today we are also weekly columnists for pet360, covering adoption, rescue, and animal advocacy.
Our Cats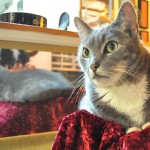 Linus: At almost 14 years old, Linus is our senior cat. He's an Oriental Shorthair, loves to be brushed, knows the word "chicken" and loves all things chicken-related, and always enjoys his meals! Linus was adopted from the Austin Humane Society.
Inca: Inca is our sweeter than sweet little girl and the smallest member of our family. Golden-eyed Inca loves her catio, grooming our other cats, and napping in the sunshine. Inca was adopted at what is now Texas Humane Heroes. (See: How Inca Got Her Name)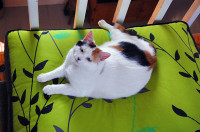 Coco: Coco came to us one Sunday morning when a neighbor walked over, carrying a small box. Inside was tiny Coco, then weighing under one pound. Our neighbor had found her in the bushes at a local post office; an adult cat had been run over by a car in front of the building. Coco loves beating the dogs to the dog beds (or are they cat beds?)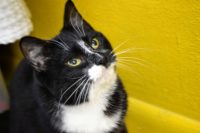 Lucky: Lucky is the newest member of our family, adopted on Valentine's Day 2014 from Austin Pets Alive! Lucky enjoys toys, toys, toys, running through the house, climbing, and playing with wand toys with his big brother Linus.
And Always in Our Hearts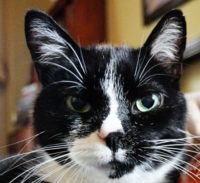 Felix: Felix was adopted as a feral cat but lived his entire life indoors. He taught us so much and will never be forgotten. You can see more photos in this gallery and read about him in "Felix's Legacy" on pet360. Felix was adopted from the Georgetown Animal Shelter.