About CatTipper
Think of a homeless cat and you might picture sad images—but it doesn't have to be this way. Each pet is a furry family member, just waiting for a family to love.
Nearly 7 million cats and dogs pass through the US animal shelter system every year. You know the joy that these pets can bring—and know that rescue pets rescue us. Join the movement. Show your pride in your rescue pet and let's inspire others to adopt, don't shop!
CatTipper a blog for people who want to have fun with their rescue cats and share the love that these kitties are waiting to give. Whether you are looking for fun to have at home with your rescue cat (considering adding a catio to your home, anyone?) or are looking for a cat cafe and its population of adoptable cats to visit , we're here to help you.CatTipper is part of the PawZaar family, joining the PawZaar gift store and our DogTipper dog blog.
We hope you'll subscribe to our updates so you never miss a post or a giveaway. We conduct frequent giveaways and Twitter parties featuring products for pets and pet lovers.
Most importantly, we have a lot of fun here. CatTipper is a positive place, a spot where we want you to feel free to ask any kind of cat question. We celebrate cat rescue with upbeat, happy news, and love sharing the joy that our dogs bring to our lives each and every day!
About Paris and John
Hi! We're Paris Permenter and John Bigley, a husband-wife team of professional writers and longtime cat lovers. Today we share our home with three cats: our boy, Lucky, and our girls, Inca and Jetty. (We also share our home with our dogs, Tiki and Irie, the inspiration for our DogTipper.com sister site.)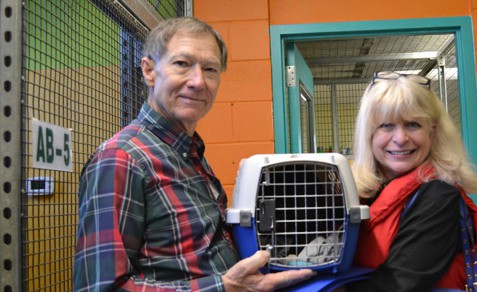 Adopting our cat Lucky at Austin Pets Alive!
John and I came to the pet writing world after 20 years as travel guidebook authors. We've written over 35 guidebooks covering destinations ranging from Jamaica to Jordan, the Bahamas to Borneo. We changed our focus to pets in 2008. In 2011, we added CatTipper to the family. And in 2015, we launched our PawZaar online boutique featuring exclusive jewelry. We help pet parents show their pride in rescue pets with jewelry that helps sponsor a homeless cat or dog waiting for a forever home.
Our Cats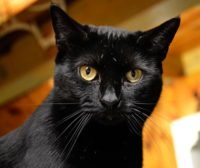 Inca: Inca is our sweeter than sweet little girl, adopted in 2007 after coming to the shelter as a cemetery stray cat. Golden-eyed Inca loves her catio, grooming our other cats, and napping in the sunshine. Inca was adopted at what is now Texas Humane Heroes. (See: How Inca Got Her Name)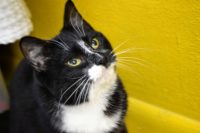 Lucky: Lucky was adopted on Valentine's Day 2014 from Austin Pets Alive! (after moving from the Bastrop Animal Shelter). Lucky enjoys toys, toys, toys, running through the house, climbing, and playing with wand toys.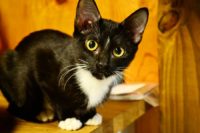 Jetty: Named for the Jetty in Port Aransas, a town devastated by Hurricane Harvey, our little Jetty was a Hurricane Harvey evacuee herself. Adopted at three months old from Austin Pets Alive after evacuation from Victoria, Jetty adapted to our home in record time, thanks to help from her big brother, Lucky.
And Always in Our Hearts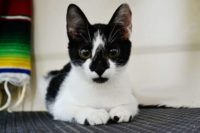 Ochi: Little Ochi, named for Ocho Rios, Jamaica, was adopted from the Ringworm Adoption Center at Austin Pets Alive (after moving from the Lockhart Animal Shelter). Ochi loved her catio, playing with wand toys with Lucky, and cuddling! We lost her to cancer at just 16 months old, a mere 360 days after her adoption. You can read more about Ochi in our Remember Ochi, 2016-2017 post.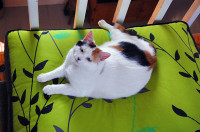 Coco: Coco came to us one Sunday morning when a neighbor walked over, carrying a small box. Inside was tiny Coco, then weighing under one pound. Our neighbor had found her in the bushes at a local post office. You can read more about Coco in our Remembering Coco, 2007-2016 post.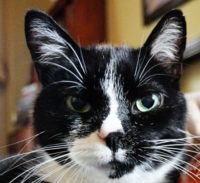 Felix: Felix was adopted as a feral cat but lived his entire life indoors. He taught us so much and will never be forgotten. You can see more photos in this gallery and read about him in our Remembering Felix 1999-2014 post. Felix was adopted from the Georgetown Animal Shelter.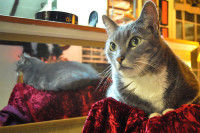 Linus: Linus shared our home for 16 years–and he'll always share our hearts. He was adopted from the Austin Humane Society. You can read more about Linus in "Remembering Linus, 2000-2016."