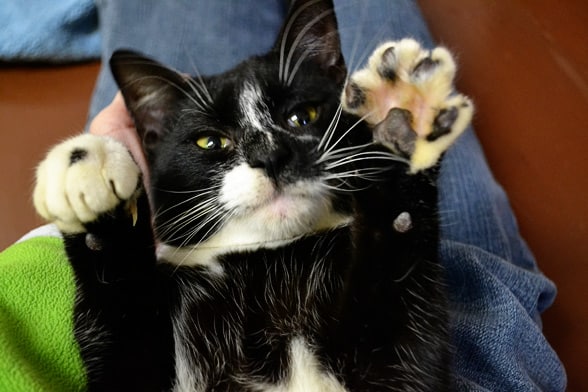 Ever since we adopted this little fellow from Austin Pets Alive!, we've been in search of a name.
At the shelter, his name was Tuxie: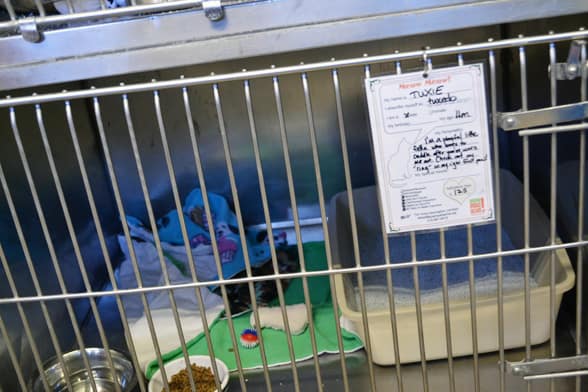 We've always been in love with tuxedo cats (he's our fourth!) and that tuxedo look definitely drew our eye to him in the first place when we saw him on the APA website. But it was his personality that sealed the deal. Along with being snuggly and playful, he's outgoing and fearless, perfect for our busy home with three other cats and two large dogs.
Of course, another factor that lead us to this little four-month-old was the fact that he reminded us so much of our dear Felix. Life has been tough since we lost Felix; he will hold a permanent place in our hearts. But we knew the best way we could honor Felix's memory was by sharing our home and our hearts with another homeless cat. He's not a feral like Felix was when we first adopted him but this happy-go-lucky kitten definitely reminds us of Felix in so many ways, from the way he LOVES to play with shoelaces to the little trilling sounds he makes as he greets us.
We decided to honor Felix's memory in one more way: by bestowing his name on this new kitty. In English, Felix is Lucky…and that's the name of this new bundle of joy: Lucky! We feel so lucky to have him in our lives.
Welcome to the family, Lucky!!