Regardless of where you live, you always run the risk of an evacuation due to a natural or a man-made disaster. From hurricanes to floods to gas leaks, evacuation means that you and your cats could suddenly have to leave your home and head to a shelter, hotel, or friend's house. And what if the evacuation order took place while you were away from home? Are you ready?
Cat Evacuation Tips
Watching the news and seeing the terrible tornado destruction makes us all think about the safety of our family during times of disaster–including our furry family.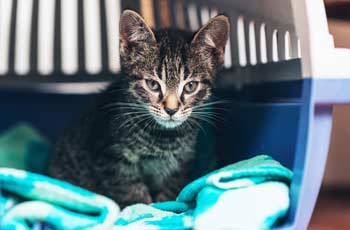 Preparing for Evacuating With Your Cat
Just like you make preparations for the rest of your family, you'll need to make sure you've prepared everything your cat will need in the event of a sudden evacuation.
---
Recording Your Cat's Information in Case of a Disaster
If you should find yourself separated from your cat due to a natural disaster, do you have his or her information readily available to begin a microchip search?