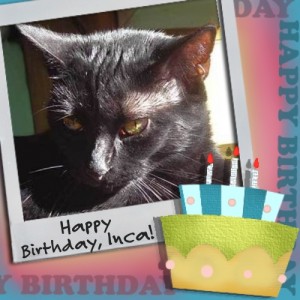 If your cat was adopted or born in November, it's time to enter the Birthday Cat Club! Send in a photo for a chance to win a sack of cat toys plus all photos will appear in our November Birthday Cat Club video! (And if you have a dog with a November birthday or gotcha day, be sure to enter our Bowser Birthday Club!) Watch for the winner of the October Birthday Cat Club on November 15, along with the release of the October video!
November Birthdays & Gotcha Days: How to Enter
If your cat's birthday or gotcha date is in November, you can enter one of two ways:
email us a photo of your cat to editors@cattipper.com along with your cat's name. Please put "November Birthday" in the subject line.
or you can use the Disqus comment box below to leave a note with your cat's name and to attach your cat's photo. Just click the "+" link below the comment box to attach the photo! It takes a moment for your photo to upload so please allow it to upload before you hit the "post" button; if it uploaded successfully, you'll see a thumbnail of your photo below your comment. (The file size can't be too large.)
The party is open to cats everywhere whose birthday or gotcha date is in November. We'll announce the winner next month when we'll launch the December Birthday Cat Club. In the meantime, happy birthday to our cat buddies with November birthdays!