The weather is getting hot and we all know what that warmer weather means: litterbox odors get stronger. The last thing you want, at the end of the day, is to walk in your house and smell the whiff of the litterbox. (Let's make that the NEXT to last thing you want. No doubt the LAST thing you want is for guests to walk in and immediately be struck by the scent of the box, a smell that's especially pungent for people without cats in their homes.)

We've recently learned about Simple Solution 30 Day Super-Absorbent Litter. It's designed, not to mask the odor in the litter, but to eliminate it. Although this litter is new, we know you're probably already familiar with Simple Solution, a company that offers simple solutions to everyday pet problems and needs, freeing pet parents to spend more quality time with their four-legged friends.
The litter uses Attapulgite clay, making it lighter than standard clay litters. A one-month supply comes in one single box, and it's designed to be powerful enough for even multi-cat households. According to Simple Solution, this litter is three times more absorbent than traditional clay litters, literally absorbing the urine rather than clumping (so no more scooping clumps of urine!) The 15-pound box is equivalent to 42 pounds of other clay litters. Not only will you save your back but, by hauling less litter, you'll also save at the store. This litter is available in two sizes, 9- and 15-pound:
Along with the lighter weight, another feature I really like about this litter is the fact that it's low dust. As I've written about frequently in the past, I have asthma…not a good mix with the dust that rises when you pour out many traditional litters. Because of that fact, John does a lot of the litterbox duty in our house. (Shh…maybe I shouldn't mention this fact. Let's not let the cat out of the bag just yet, lol.)
The Simple Solution box has a great feature for convenience, too: a spout for pouring the litter!
Of course, our opinions aren't the ones that really count when it comes to litter. Let's face it: the final word comes from our cats.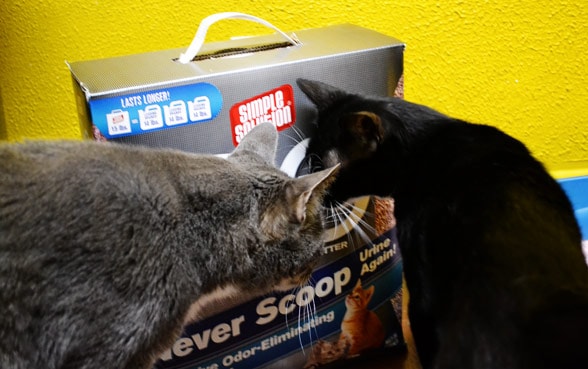 Simple Solution 30 Day Super-Absorbent Litter is designed to appeal to cats as well, with a super soft texture, light scent, and aloe infusion to make it soft on the paws. It's also designed to be less tacky than traditional litters to reduce tracking.
This post is sponsored by Simple Solution. We have been compensated but all opinions are entirely our own. We only share products and services we use with our own pets here on CatTipper.com.