Rachael Ray Nutrish has sponsored this post and the upcoming party, but all opinions are my own.
Next Thursday marks National Black Cat Day–and we're celebrating with a very special Twitter party!
On Thursday, November 17 from 3-4pm ET, we'll be hosting the #NutrishCat Twitter Party, sponsored by Nutrish. We're celebrating black cats like our sweet Inca–and one of her favorite foods, Zero Grain Chicken and Potato!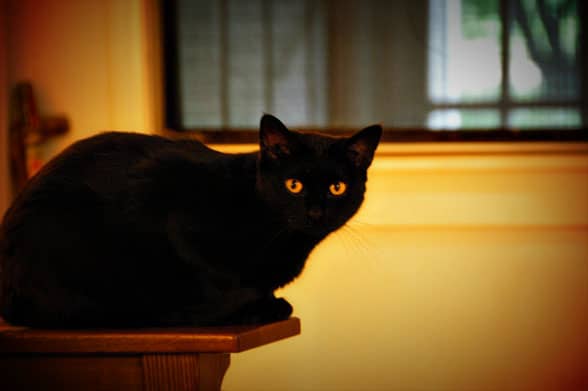 With U.S farm-raised chicken as the #1 ingredient, this food contains NO grains, glutens, fillers, poultry by-product meal, artificial preservatives, artificial colors or artificial flavors–just the chicken goodness that our cats love!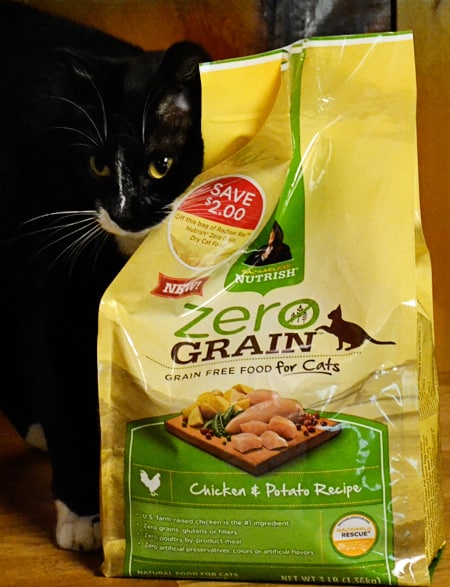 We also love that Nutrish does so much to help the many black cats who, like our Inca once was, are waiting in shelters for forever homes. You'll recall that a portion of Nutrish proceeds go to Rachael's Rescue®, which was created to help animals in need. To date, over $14 million has been donated. This money has gone toward food, medical supplies and treatments for these unfortunate animals.
Throughout the party, we're going to be sharing fun facts about black cats and Nutrish–and we hope you'll join us to share your cat photos as well as your questions for Nutrish (they'll be on hand!)
During the one-hour party, we'll be handing out nearly $500 in great prizes–and all you have to do is participate to be entered to win. And, even if you can't attend the afternoon party, you'll want to pounce on our RSVP form to be entered to win the pre-party giveaway! You'll find all the details on the prizes and how to RSVP below. Be sure to mark your calendar, and we hope to see you next week at the party!
Prizes
One pre-party prize winner will receive: 
Five Twitter party prize winners receive:

One Grand Prize winner receives: 
#NutrishCat Twitter Party
Date: Thursday, Nov. 17
Time: 3-4pm ET /2-3pm CT / 1-2pm MT / noon-1pm PT
Where: on Twitter under the #NutrishCat hashtag
Sponsor: @Nutrish
Hosts: @CatTipper @Nutrish
How to join:  Enter the pre-party giveaway in the widget below. You can enter even if you're not on Twitter or not able to make the party. To enter the party giveaways, just join the party on Thursday, Nov. 17 and participate in the fun! You can use Twitter.com, Hootsuite, or join our dedicated TweetChat room: http://tweetchat.com/room/NutrishCat.
#NutrishCat Twitter Party FAQ
How do I participate?
All you have to do is participate in the party using the hashtag #NutrishCat to be eligible to win prizes! You can engage in conversation or share photos of your cat — but, whatever you do, be sure you use the #NutrishCat hashtag on all your Tweets! The party starts at 3 pm ET, and we'll be greeting guests starting at 2:30 pm ET. Stop by and say hi!
How will I know if I win?
@CatTipper will be announcing winners every 10 minutes. If you win, we'll DM you with prize details after the party. Be sure to follow @CatTipper since we can't send a DM unless you're following us. If you win the pre-party prize for RSVPing (entry below), we'll email you.
How do I follow the fun?
If you've been to any of our parties, you know they're fast-paced! We use Hootsuite and open a column for the #NutrishCat hashtag–that way you'll see everything that's being tweeted from the hosts, sponsors, and fellow guests. You might want to visit our #NutrishCat TweetChat room, if you prefer.  Once you're there, you can Tweet from the party room and you won't see any non-party Tweets in your stream.
Which accounts should I follow?
Here's a rundown of the #NutrishCat team and duties:
We hope to see you at next Thursday's party! Remember: even if you can't make the party, or you're not on Twitter, you are eligible to enter the pre-party giveaway below.
RSVP
You'll enter in the widget below; the pre-party winner will be announced at the start of the party. Good luck!
We are working with Nutrish to produce this Twitter party and share product news with our readers. Prizes will be provided and shipped by Nutrish.