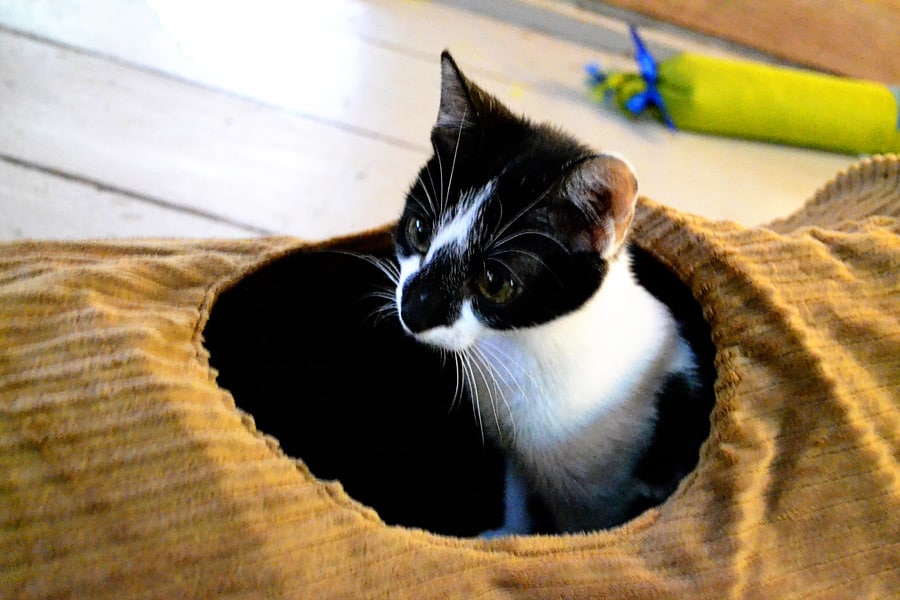 In Ochi's two weeks in our home, she's been busy adjusting to her new house and making friends with her furry family members. But, hey, Ochi…it's time to get to work on the family business!
Ochi has been busy the past few days working on her very first product review: the U J I Tunnel System from the makers of the uber-popular Neko Flies cat wands!
This tunnel system–sold separately or as a set–features three shapes of tunnels: a U-shaped tunnel, a J-shaped tunnel, and a straight I-shaped tunnel. Each tunnel has zippered ends so that the the units can be connected to each other in over 20 different combinations, either by zipping together at the tunnel ends or at some of the tunnel openings.
Ochi took to the tunnels right away and soon she was scampering from one end of the tunnels to the other! Lucky soon joined in the fun–and the first evening, I found the two of them curled up in the tunnel sleeping.
The tunnels are a great tool for traveling or moving with your cat as well. Each tunnel comes in its own handy travel case: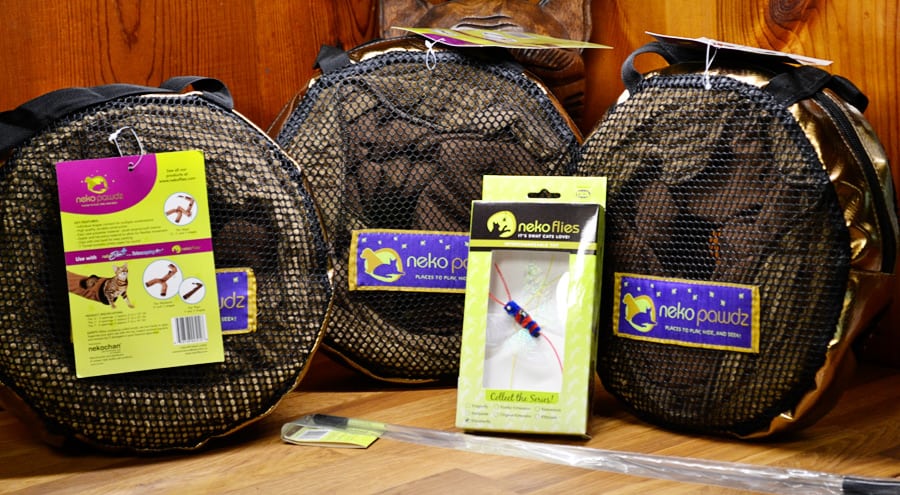 The tunnel makes a great travel accessory to use every night in your hotel room, giving your cat a safe place to play in an otherwise unknown location.
You can also use the tunnel to provide shy cats–or cats frightened by a move (or a recent adoption)–a covered path to the litterbox, water bowl or food dish. Cats who might otherwise be frightened to cross a large room can use the tunnel system to reach important locations.
I love that we can reconfigure the tunnel system when the cats become bored; unzipping the units and changing up the layout will create an all-new toy that will make this tunnel system a great addition to our home for many years. Constructed from a premium, plush polyester with a soft durable inner lining, these tunnels are built to last and can be easily rinsed clean when soiled. Each tunnel has built-in safety pockets for buttons and loops preventing cats from chewing or swallowing them.
Ochi gives the U J I Cat Tunnel System a BIG paws up for fun and for providing a safe hideaway for cats, whether they're new to a home, dealing with upcoming holiday hustle and bustle, or traveling.
Would YOUR cat like to give the U J I Cat Tunnel System a try? We've got a great giveaway: enter to win one of TWO tunnel sets and a Neko Flies wand for your cat!!
Enter to Win
You'll enter in the widget below; you may return to the widget any time during the giveaway period for more entries. Good luck!
This giveaway is sponsored by and fulfilled by Nekochan. As always, we only share products that we use with our own pets!