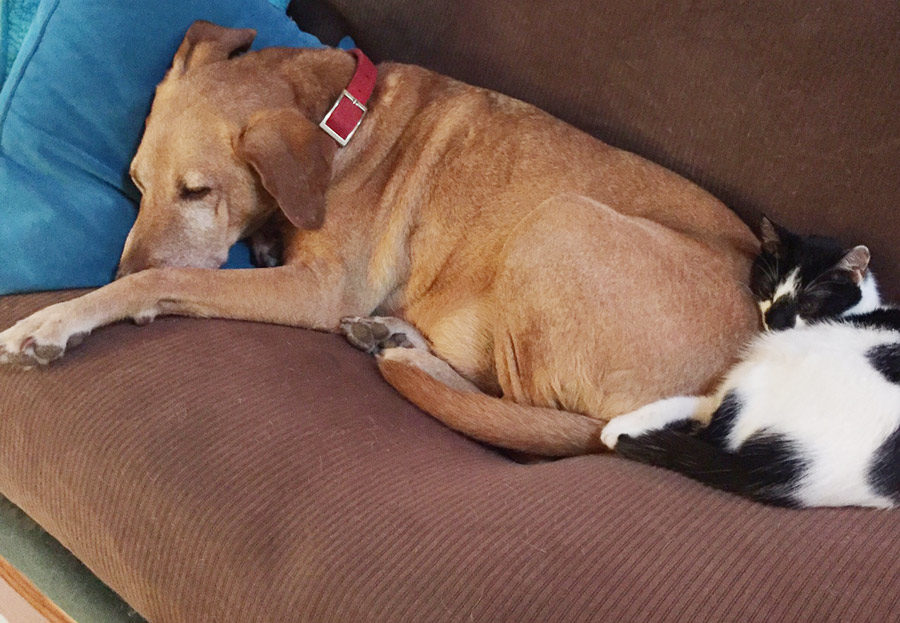 Well, the fireworks began in our area last night, even though the holiday is still days away (and technically next MONTH). Ochi, Lucky and Inca didn't seem to mind the noise but, as always, our dog Irie is terrified of fireworks.
Whether your pets are frightened of fireworks–or you're just concerned that the in-and-out of company at your house could present a danger, please take a moment to read these tips from ASPCA:
Sadly more pets go missing around the 4th of July than any other time of year. July 1 is ID Your Pet Day, a time to check your cat's collar tag to make sure all info is current!
We've got a fun giveaway from ASPCA in this week's Fido + Fluffy's Freebie Friday, the weekly bloghop that we co-host with To Dog With Love and DogTipper. Featuring giveaways for pets and pet lovers, this blog hop welcomes bloggers with pet-related giveaways.
Please link directly to your giveaway, not to your home page. (PLEASE don't link to non-giveaway posts.) We post a new blog hop every Thursday afternoon at 4pm ET.
Good luck!
Disclaimer: Each giveaway has its own entry rules. CatTipper, To Dog With Love, and DogTipper assume no responsibility for the legality of the rules governing the listings on other sites and giveaways that are posted here. We simply provide this forum as a gathering place for pet product giveaways to be offered. Fulfillment of each giveaway is done by the blog conducting the giveaway, not by the hosts of this giveaway hop; please contact the giveaway host with any questions regarding a giveaway or giveaway prize.