Rachael Ray Nutrish has sponsored this post and the upcoming party, but all opinions are my own.
It's time for a Nutrish Twitter party especially for cat lovers! We're so excited to announce that we are hosting the #NutrishCat Twitter Party on Thursday, May 11 from 3-4pm ET, sponsored by Nutrish!
The #NutrishCat party will be spotlighting Nutrish Indoor Complete cat food, a food that's specially formulated for the needs of indoor kitties like ours. Rachael Ray Nutrish's new Indoor Complete Chicken with Lentils & Salmon Recipe is a favorite of Inca's and Lucky's–and now that Ochi has reached her first birthday, it's one of her faves as well!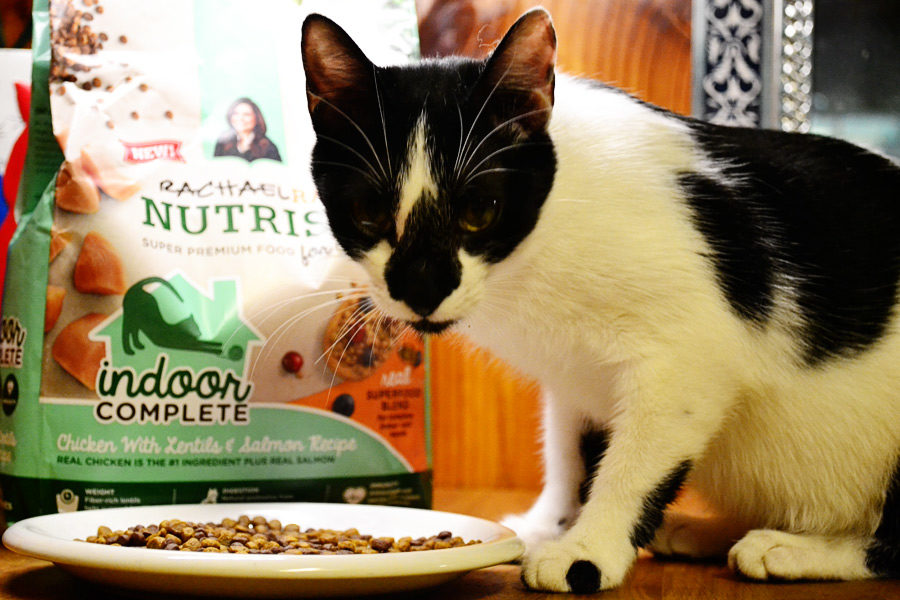 Would you like to win the new Chicken with Lentils and Salmon food for your cat? I love that this natural food provides the added vitamins, minerals and taurine your cat needs–along with a real superfood blend to meet the complete needs of your adult indoor cat. You'll also want to pounce on this because:
Real U.S. farm-raised chicken is always the #1 ingredient, plus real salmon.
Lentils are naturally rich in fiber and protein and low in fat. They help support healthy metabolism and optimal body weight.
Dandelion greens and pumpkin are nutrient and fiber rich. Dandelion greens also contain natural prebiotics to aid in healthy digestion.
Cranberries and blueberries are antioxidant-rich fruits that are great sources of essential vitamins and minerals, like Vitamin C, to help support a healthy immune system.
Safely USA cooked with the world's best ingredients.
No ground corn, wheat, soy or poultry by-product meal.
You can purchase it where you buy your family's groceries.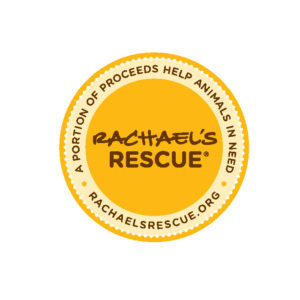 Throughout the #NutrishCat party, winners will be awarded bags of Indoor Complete food as well as prizes from our PawZaar boutique! We'll have experts on hand from Nutrish to answer your questions about this new food, and we'll be talking about Indoor Complete as well as the amazing work that Nutrish does to help homeless pets. A portion of proceeds from each sale of Nutrish is donated to The Rachael Ray Foundation, which helps animals in need through Rachael's Rescue. Through December 2016, Rachael's Rescue has donated more than $17.5 million dollars to pet charities and other organizations that do good for animals. The funds are used for food, medical supplies, treatments, and more for animals in need!
#NutrishCat Prizes
As usual with our Twitter parties, the prizes will be flying! Watch for prize packs every 10 minutes, kicking off with a great pre-party RSVP prize (which you don't have to be present to win). You'll enter for the pre-party prize in the RSVP widget below.
Here's a look at the super prizes you'll be eligible to win just for attending the party and joining in the fun by tweeting, retweeting, or sharing fun photos of your pets!
In all, the party prizes total over $670!
Sharing Your Cat's Photo!
And please bring along a photo (or two!) of your cat to share at the party! One of the highlights of our parties is always seeing everyone's super cute pet photos. Just by sharing a photo, you're participating in the party, which makes you eligible to win prizes!

The party is also a great time to share your Nutrish Mojis created with their brand-new app for IOS and Android. Users can upload a picture of their pet and turn it into a custom sticker! You can download the free app here: http://apps.swyftmedia.com/nutrishMojis.
The app is so much fun; we know you'll be seeing some great examples on the Nutrish Instagram page as well as at the party! I had so much fun making these stickers of Ochi!
If you get a chance, download the app and create some stickers of YOUR pets to share during the party!
No cats in your home right now? Come on to the party–the prizes make a great donation gift for your favorite shelter, too!
#NutrishCat Twitter Party
Date: Thursday, May 11
Time: 3-4pm ET /2-3pm CT / 1-2pm MT / noon-1pm PT
Where: on Twitter under the #NutrishCat hashtag
Sponsor: @Nutrish
Hosts: @CatTipper @Nutrish
How to join: Enter the pre-party giveaway in the widget below. You can enter even if you're not on Twitter or not able to make the party. To enter the party giveaways, just join the party on Thursday, May 11 and participate in the fun!
Which accounts should I follow?
Here's a rundown of the #NutrishCat team and duties:
We hope to see you at the #NutrishCat party! Remember: even if you can't make the party, or you're not on Twitter, you are eligible to enter the pre-party giveaway below.
RSVP
You'll enter in the widget below; the pre-party winner will be announced at the start of the party. Good luck!
We are working with Nutrish to produce this Twitter party and share product news with our readers. Prizes will be provided and shipped by Nutrish.