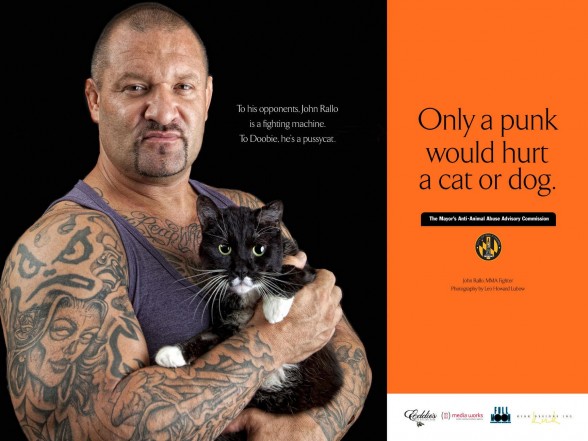 Once a bodyguard for such stars as Tommy Lee, Pamela Anderson and Sylvester Stallone, today mixed martial artist John Rallo is one of the many Baltimore area athletes who are using their inner strength to guard the rights of animals.
The MMA great has partnered with the Mayor's Anti-Animal Abuse Advisory Commission in Baltimore, Maryland for the "Show Your Soft Side" campaign, aimed at changing the mindset of troubled teens who abuse animals in an attempt to appear "manly". Captured in the lens of photographer Leo Howard Lubow, the photo can currently be seen on billboards and posters throughout the city.
While his purring pal Doobie (the oldest of the famous fighter's four felines) crossed Rainbow Bridge not long after the photo was taken, John Rallo has continued to shine a spotlight on the commission's mission of compassion by attending recent BARCS (Baltimore Animal Rescue and Care Shelter) events, including BARCStoberfest and the "Does your soft side purr?" cat adoption event.
For more information regarding the Show Your Soft Side campaign:
Photo Credit: Mayor's Anti-Animal Abuse Commission/ Leo Howard Lubow