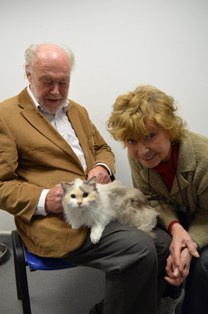 As Sybil Fawlty she provided temporary accommodations for guests at Fawlty Towers, and now the actress who starred in the classic Britcom has offered a permanent residence to a cat in need of a forever home.
Actress Prunella Scales and her husband, veteran actor Timothy West (King Francis in the Drew Barrymore fairy tale Ever After: A Cinderella Story) recently paid a visit to Battersea Dogs and Cats Home's London site and left with their new purring pal, Hannah– a one and one-half year old mixed breed who had been brought to the prominent UK rescue when her pet parent became too ill to care for her.
"We have had cats for a very long time and they've always been rescues. Our last two cats sadly passed away and left such a void in our lives. We've had cats from Battersea in the past and when we visited to find another kitty we were absolutely smitten with Hannah. It was a tough choice as there are so many adorable cats at Battersea – they all deserve to find wonderful new homes."
Saving the lives of our feline friends since 1883, almost 3,000 homeless cats were welcomed at Battersea Dogs and Cats Home's three sites in 2011. Currently there are approximately 150 cats at the rescue's branches in London, Berkshire and Kent. If you are interested in adopting a cat from Battersea Dogs and Cats Home, send an email to cat.rehoming@battersea.org.uk.
For more information regarding Battersea Dogs and Cats Home:
Photo Credit: Battersea Dogs and Cats Home