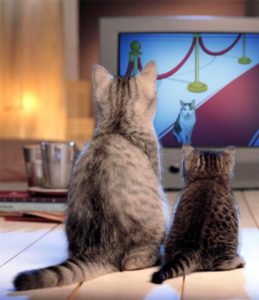 The countdown is underway for #RedCarpetCat, the live from Hollywood Twitter party we'll be co-hosting along with All Things Dog Blog! Featuring the "fashion with a passion for global conservation"  cat and dog bags and accessories from The Tiniest Tiger, the Twitter party promises to be a LOT of fun with giveaways every 10 minutes. In all, we'll be handing out over $3,000 in prizes!
During the party, we're going to have a lot of fun trivia questions. You don't have to worry about right or wrong answers; we just need to get tweets from you so that we know you're on the party…then you're entered to win! Be sure that you're listed on the RSVP list so you're eligible to win…and don't forget to enter our PreTweet and Rafflecopter #RedCarpetCat giveaways, too!
Just as a warm up, we wanted to share some fun trivia similar to what we'll be asking during tomorrow night's party! Every question will be preceded by Q1 (meaning Question 1), then you'll answer with A1 (for answer to question 1). That's it! Just be sure to include the #RedCarpetCat hashtag so we see your answer!
So here's a trial run:
Q1: Irish wildlife documentary 'Broken Tail' was nominated for how many Emmy awards in 2012?#RedCarpetCat
Q2: What is Dora the Explorer's last name on the show? #RedCarpetCat
Q3: Which character on the British comedy 'Are You Being Served" has a cat named Tiddles?  #RedCarpetCat
Q4: Mutual of Omaha's 'Wild Kingdom' premiered on what channel in what year? #RedCarpetCat
Q5: When Lucky Tanner died on the show ALF, what did ALF learn? #RedCarpetCat
Q6: Lily Rush on 'Cold Case', had a cat. What was the cat's name? #RedCarpetCat
Q7: What was the name of the 'Zombie Cat' on an episode of 'Buffy the Vampire Slayer'? #RedCarpetCat
Q8: While 'Wild Kingdom' premiered on NBC, it now airs on what channel? #RedCarpetCat
For answers, see All Things Dog Blog and 5 Minutes for Fido she's got a similar trivia post so you can practice some more!
And please be sure to mark your calendars for Wednesday night from 5:30-7pm Pacific, 6:30-8pm Mountain, 7:30-9 Central and 8:30-10 Eastern to join the #RedCarpetCat party!
Sylvester spent his life trying to catch Tweety Bird!
Marcel was a Capuchin monkey.
Wilbur Post was Mr Ed's human companion.
Jack Hanna ran the Central Florida Zoo/Sanford Zoo from 1973 to 1975.
PBS is also nominated in the Cinematography category for 'Bears of the Last Frontier' and 'Armadillo'.
Animal Planet's nominees are 'Into the Dragon's lair' and 'Secret Life of Elephants'
Disclosure: As part of Event Barkers, we are working with The Tiniest Tiger to promote this party.