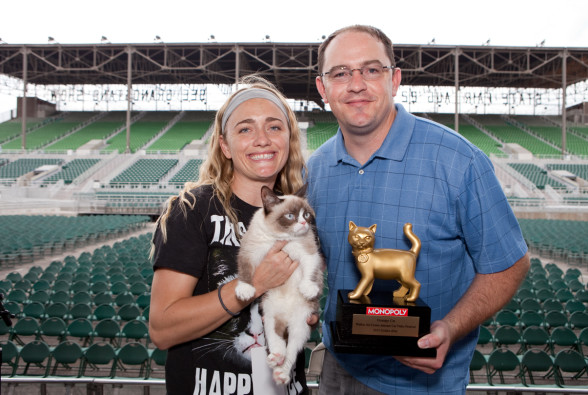 Her reaction may have been characteristically curmudgeonly, but fans of felines were delighted to discover that Grumpy Cat's video contribution Original Grumpy Cat was deemed the People's Choice winner at the second annual Internet Cat Video Festival.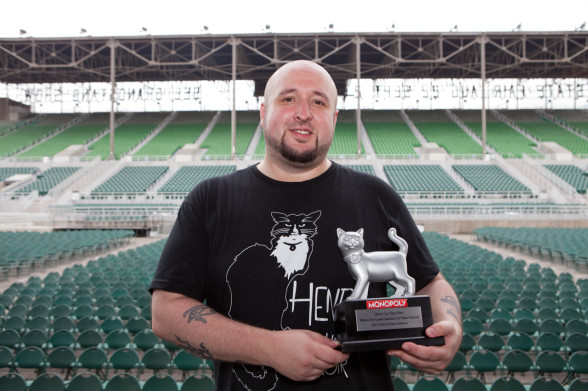 Will Braden of Henri Le Chat Noir fame (seen in the photo above), picked up an Internet Cat Video Festival inductee award for Henri, Paw de Deux
Presented at the festival's finale by last year's recipient Will Braden (the proud pet parent of Henri Le Chat Noir) and festival producer Scott Stulen of the Walker Art Center on the grandstand at the Minnesota State Fair, after online voting of almost 20,000 responses an audience of more than 10,000 cat admirers cheered as the persistently persnickety purr-er was awarded the prestigious Golden Kitty– a Habro-designed creation in celebration of the new cat Monopoly piece.
Internet sensation Lil Bub's video Lil Bub Sounds was inducted in to the Internet Cat Video Festival Hall of Fame
If you missed all of the feline-themed fun, you can still view a playlist of selected festival videos on YouTube, and check to see if a hep cat happening will be in your area as the Internet Cat Video Festival hits the road with 11 tour dates already scheduled and more to be added to the list.
Heather Farms Park in Walnut Creek (San Francisco), California on September 7th
Honolulu Art museum in Honolulu, Hawaii on September 7th – 15th
CultureTECH Festival in Derry, Northern Ireland on September 12th
Monmouth Couny Library in Manalapan, New Jersey on September 22nd
ArtPrize in Grand Rapids, Michigan on September 27th
Cable Car Cinema in Providence, Rhode Island on October 4th
Irish American Heritage Center in Chicago, Illinois on October 19th
Warsaw Hall in Brooklyn, New York on October 25th
Milwaukee Art Museum in Milwaukee, Wisconsin on January 24, 2014
Great Wall of Oakland in Oakland, California in May 2014
Hollywood Theater in Portland ,Oregon in June 2014
For more information regarding this year's Internet Cat Video Festival:
Photo Credit: Walker Art Center