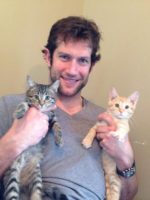 David Backes earned a silver medal as a member of the 2010 USA winter Olympic ice hockey team, and he's won the admiration of animal lovers for having a heart of gold.
A proud Poppa to two cats and four Fidos (all rescues), the captain of the St. Louis Blues quickly bonded with adorable adoptables Butterball and Stuffing during a recent visit to Five Acres Animal Shelter.
A long time supporter of the no-kill animal shelter in St. Charles, Missouri, the celebrated center has also helped our pals with paws by promoting Best Friends Animal Society's Strut Your Mutt St. Louis fundraiser, puckering up for Adopt-a-Pet's first annual Pooch Smooch and Kitty Kiss event, stepping out on the ice for Barkin' for the Blues and by launching Athletes for Animals.
A foundation which offers financial assistance for rescue organizations and promotes the option of pet adoption, Athletes for Animals features a pack of players from a variety of sports who have teamed together as ambassadors to help pets in need. Members of the foundation include Barret Jackman of the St. Louis Blues, David Perron of the Edmonton Oilers, Erik Johnson from the Colorado Avalanche, St. Louis Rams team members Jake Long and James Laurinaitis, Texas Rangers pitcher Kyle McClellan, Mark Buehrle of the Toronto Blue Jays and Trevor Hill of the Arizona Diamondbacks.
For more information regarding Five Acres Animal Shelter, a non-profit organization which has been saving homeless dogs and cats for the past 40 years:
Great day to visit your local shelter and adopt for the holidays. These two are @5_Acres – "Butterball & Stuffing" pic.twitter.com/N96t2y9JqE

— David Backes (@dbackes42) December 4, 2013
Photo Credit; Twitter/ David Backes