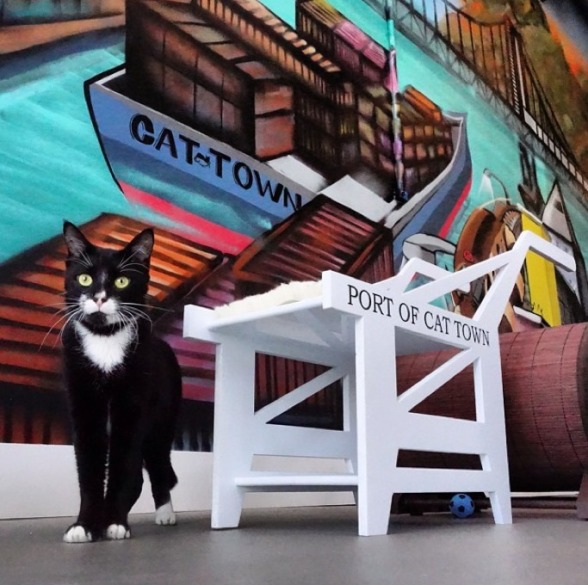 Cat lovers with a hunger to help our purring pals who need forever homes can now enjoy dining on culinary creations in the presence of adorable adoptables who are enjoying a taste of the good life.
The Cat Town Café, which recently opened its doors in Oakland, California, is the first purrmanent feline-themed eatery in the country, offering a menu of tasty treats including bagels, vegan sandwiches and Cat Macaroons,washed down with coffee or catnip tea (a delight craved by both customers and cats.)
After ordering noms and beverages at the self-contained cafe, patrons can visit the separate Cat Zone, where they can purchase dehydrated treats from RAWR, an Oakland-based raw cat food purveyor, to give to their new kitty companions.
A 2,200-square-foot facility which also features an ever-changing array of cat-inspired art as well as feline-focused merchandise for sale to the public, Cat Town Café is a collaboration between Adam Myatt (The Cat Man of West Oakland) and Ann Dunn, the founder of Cat Town— an all-volunteer non-profit organization which has found pet parents for more than 600 shelter cats (many who were deemed "unadoptable") since 2011.
NOTE: Walk-ins are welcome, but a $10 donation to the paws cause guarantees a 60 minute stay in the Cat Zone.
Where: 2869 Broadway in Oakland, California
For more information:
Photo Credit: Cat Town Cafe