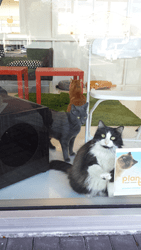 Christmas has come early for Floridian fans of felines, as the second cat cafe in the country opened its doors in Naples on December 3rd. (Read about the country's first cat cafe.)
Planet Tails offers doggedly devoted admirers of those who meow the opportunity to meet free roaming adorable adoptables from Collier County Domestic Animal Services (like Holly, seen in the photo to the right), enjoy a coffee klatsch with fellow lovers of all things feline, view cute cat video clips via free Wi-Fi, mull over possible purchases for a purring pal in the retail section and watch fish frolic in an aquarium.
Dubbed a 'pet lifestyle center' by proprietor Ericka Bastile, the facility also features cat boarding and a small dog daycare for tail-waggers 25 lbs. and under, as well as special Yappy Hours, a Social Cat Club and Kid's Critter Crafts camp.
Planet Tails, which follows in the paw prints of the nation's first cat café–Oakland California's Cat Town Cafe (which opened its doors in November 2014)– will welcome pawty animals to the establishment's grand opening celebration on December 6th from 2 p.m. – 4 p.m.
Planet Tails is located at the Galleria Shoppes at Vanderbilt, 2355 Vanderbilt Beach Road in Naples, Florida.
For more information:
Animal shelter director Darcy Andrade and Planet Tails owner Ericka Bastile welcome the first kitties to the cat cafe: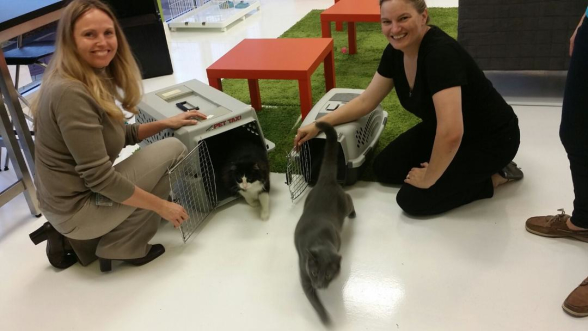 Photo Credit: PRWeb