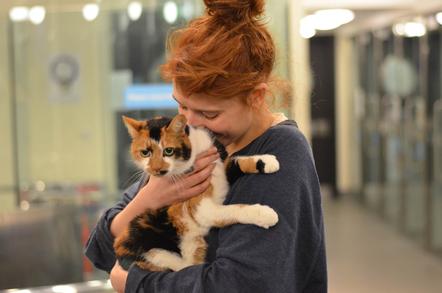 She's the voice behind the chart-topping hits "Dog Days are Over," "You've Got the Love" and "Shake It Out," and now as Florence and The Machine vocalist Florence Welch works on her band's third album the sound of her new four-pawed pal's purrs will be music to her ears.
Stating "I've had two cats before and decided to get a rescue cat because it felt like the right thing to do," the multi-platinum-selling singer with a heart of gold welcomed a four-year-old tortoiseshell cat named Missus into her life after visiting Battersea Dogs & Cats Home on January 26th.
"I always used to see Battersea on my way to school so it was the first place I thought to go to rehome a cat, the only problem is I want to take them all home! I would encourage anyone thinking of getting a pet to come to Battersea to see all the beautiful cats here."
Talking about her new meowing muse, the songbird said: "I chose Missus because she was extremely friendly and, straight away, came to sit on my lap where she seemed to make herself very comfortable. She'll be a very good writing partner and we'll probably spend lots of time together."
Helping homeless kitties for more than 130 years, Battersea Dogs and Cats Home cares for approximately 190 cats at three centers at any given time. For fans of felines who wish to follow Florence Welch's example and adopt a rescue cat from Battersea, the renowned charity will be holding Feline Lonely– a dating event on Valentine's Day complete with cat cuddle booths, champagne and a match making service so potential pet parents can find their purr-fect kitty companion.
For more information regarding Battersea Dogs and Cats Home:
Photo Credit: Battersea Dogs and Cats Home