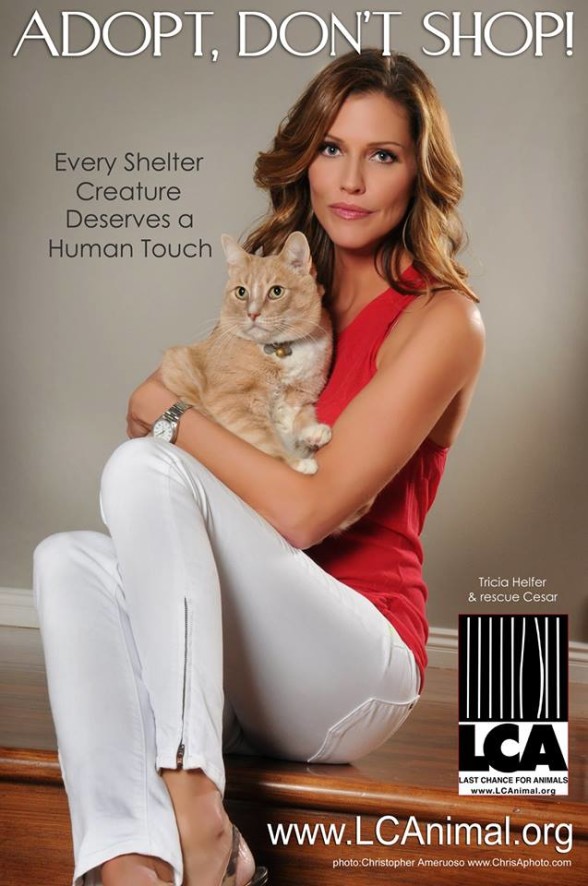 Killer Women star Tricia Helfer is helping to save pets in need by shining a spotlight on the option of shelter adoption in a new PSA.
A multi-cat Mom whose ongoing efforts to help such animal welfare organizations as Best Friends Animal Society and Kitten Rescue was rewarded with Kitty Bungalow Charm School for Wayward Cats' annual Cats in White Spats award in 2013, the former Battlestar Galactica cast member recently posed with rescue cat Cesar for Last Chance for Animals' Adopt, Don't Shop campaign.
Following in the footsteps of such fellow high-profile pals to those with paws as Sons of Anarchy's Ron Perlman, reality star Joanna Krupa from The Real Housewives of Miami, movie star Sam Elliott and Mike Wolfe of American Pickers fame, the actress is one in an ever-growing list of animal-loving luminaries who have stepped in front of famed photographer Christopher Ameruoso's camera to show support for the campaign.
Established in 1984 by actor Chris DeRose, Last Chance for Animals strives to shine a spotlight on a number of animal welfare issues, including the plight of puppy mill dogs, the protection of companion animals against pet theft and efforts to end the transport of animals to labs.
For more information:
Photo Credit: Christopher Ameruoso/Last Chance for Animals