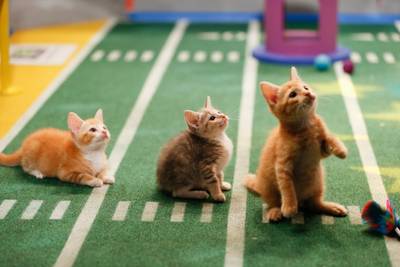 While fans of chart-topping tunes may tune in to watch pop star Katy Perry belt out her hits during the Super Bowl Halftime Show, friends of felines are getting ready to "Roar" their appreciation for the Bissell Half-Time Show purrformer Katty Furry during Animal Planet's annual ode to the option of pet adoption, Puppy Bowl.
All of the 55 tail-wagging wide receivers and barking quarterbacks who will charge on to the pint-sized playing field during Puppy Bowl XI are doggie draft picks from shelters and rescue groups across the country, while the feline entertainers who star in the halftime show were selected from Animal Care and Control of NYC.
Celebrity Spotting
Among those cheering for the Spots turned sports stars will be none other than famous feline Lil BUB, who will be checking in on the pups' plays from time to time.
Animal Planet will unleash Puppy Bowl XI on February 1, 2015 at 3 p.m. ET/PT, with repeats of the show airing throughout the day and night.
For more information regarding Puppy Bowl XI:
Photo Credit: Animal Planet