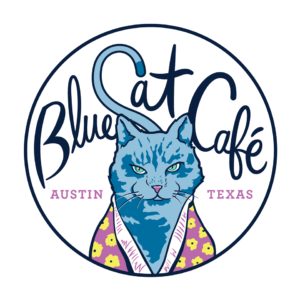 Austin, Texas has sometimes been referred to as Bat City due to the 1.5 million Mexican free-tail bats who make the underbelly of the Congress Avenue bridge their home each year from early spring until late fall.  Starting October 16th, however, Austin may earn the new nickname Cat City as a peaceful 'invasion' of intergalactic kitties begins at the Lone Star State's first cat cafe.
An East side eatery which has embraced the area's hipster environment, The Blue Cat Cafe will serve up not only delectable dishes, but also sustenance for the soul. Foodies are invited to feast their eyes on the unconventional cat portraits that grace the establishment's exterior before tucking into BBQ Revolution's 100 percent vegan vittles, which will be dished out at an on-site food truck.
In a nod to Austin's pride of place as The Live Musical Capital of the World, the interior includes such cool curiosities as guitar case and drum kit kitty beds, and there will even be a small stage for possible future acoustic purrformances, Austin Eater reports. Of course, cats take center stage at the cafe, with out-of-this-world adoptables coming from Austin Humane Society, the city's largest no-kill pet adoption center.
The Blue Cat Cafe is located at 95 Navasota Street in Austin, Texas.
For more information:
Photo Credit: Blue Cat Cafe/Facebook