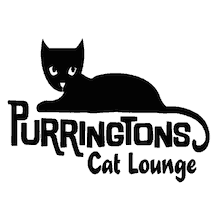 The start of the new year marks the dawn of a new era in dining as well as dogged devotion to the divine feline as the nation's fifth cat café opens its doors in Portland, Oregon on January 24th.
Customers at Purringtons Cat Lounge can mingle with fellow fans of felines as they sip one of a bevy of beverages ranging from iced tea to fine wine (with Meowmosas added to the weekend menu) and nom on pastries or other assorted nibbles, all while adorable adoptables who are enjoying a taste of the good life on the premises lap up the attention of their admirers.
Pals to those who purr will have the chance to check out the kitty quarters of 8 – 10 well-socialized felines from Cat Adoption Team, a non-profit organization which has found forever families for more than 30,000 cats and kittens since its start in 1998.
Purringtons Cat Lounge follows in the paw prints of recently opened U.S. cat cafés Meow Parlour in New York City, The Denver Cat Company in Colorado, Planet Tails in Naples, Florida and The Cat Town Cafe in Oakland, California.
Cover charge: Entry into the separate cat lounge area is $8 for a hour-long stay. Reservations required beginning January 25th.
Note: In order to maintain a peaceful environment for the cats in residence, only animal-loving little ones age four and older, and accompanied by a parent or guardian, can visit the cat lounge.
Where: 3529 NE Martin Luther King Jr. Boulevard in Portland, Oregon
For more information:
Photo Credit: Purringtons Cat Lounge