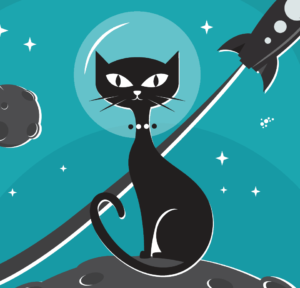 Fans of felines who live in the Land Down Under are over the moon thanks to the news that the second in a far out franchise of space-themed cat cafes will open its doors to the public in Sydney, Australia on July 24, 2015.
Hoping to rocket to astronomic heights like the establishment in Thailand which started the sci-fi/feline odyssey, in the eyes of kitty enthusiasts Catmosphere could just be the coolest hangout in the universe this side of the Dagobah system. Offering tasty treats, coffee and drinks, during their visit patrons will also have the chance to communicate with some true stars– catstronauts who have traveled from the Sydney-based rescue organization Inner City Strays.
The purring population at Catmosphere will live long and prosper in the cafe's comfy kitty quarters, which includes a large cat room and a small cat room where they will receive guests  (15 and 10 at a time, respectively), and a human-free area where the cats can enjoy some quality 'me' time. For $20 cat-loving customers can enjoy a complimentary hot beverage, a cookie, and an hour in the presence of those who purr.
While the catstronauts have landed at their purrmanent address, Catmosphere will help to promote the fact that adopting a pet is out of this world. The cat cafe will be equipped with iPads which will be connected to a database of adoptable felines who would love to explore the new frontier of a forever home.
Far from an alien concept, cat cafes have recently enjoyed a meteoric rise around the globe, with Australia welcoming its first cat cafe (Cat Cafe Melbourne) in July 2014, and Cat Town Cafe unleashing the phenomenon in America in November 2014.
Catmosphere is located at 66 Foveaux Street, Surrey Hills, New South Wales, Australia.
For more information:
Photo Credit: Catmosphere