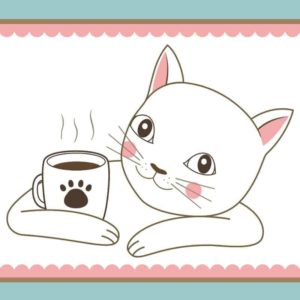 The arrival of fall has put a spring in the step of cat lovers across the pond as the city of Newcastle upon Tyne welcomes its second cat cafe, CatPawCino. The two-floor Newcastle cat cafe features a cat lounge where cat lovers can cultivate their dogged devotion to kitties in a garden-inspired environment, and a basement which functions as a place to pick up a tasty treat and mull over cat-influenced merchandise.
Proprietor Sarah Zong has made the endeavor a family affair, with her own kitty companions welcoming customers to the establishment. Patrons can make friends with a handsome Ragdoll named Alfie; energetic Ebby, a Scottish Fold; Davin and Chocolate the Point Birman twins, and beautiful Betty, a British Blue. The fortunate cats haven't forgotten about their fellow felines in need, as a portion of the cat cafe's profits will be donated monthly to Newcastle Dog and Cat Shelter, which has provided comfort and care to homeless companion animals since 1896.
Along with playing with their new purring pals, feline-loving foodies can also enjoy a variety of tasty cat-themed noms including cakes, cookies, sandwiches, soups and menu options which pay homage to the owner's heritage, such as Chinese Bun and Bowl Tea.
By opening in Newcastle upon Tyne CatPawCino is following in the paw prints of the city's first cat cafe, Mog on the Tyne.
CatPawCino is located at 77 Quayside, Newcastle upon Tyne, Tyne and Wear in England.
For more information:
Photo Credit: CatPawCino/Facebook