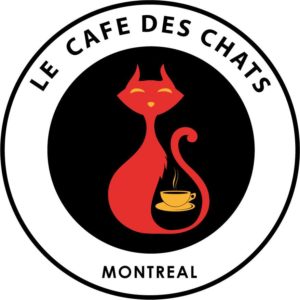 The first cat cafe to open its doors in North America recently celebrated its first annipurrsary!
Welcoming feline-loving foodies since August 2014, Le Café des Chats Montréal (The Cat Cafe Montreal) offers customers tasty treats like vegan brownies and cupcakes, scones and sandwiches in an environment that offers eight purrmanent residents a taste of the good life.
Adopted from the Montreal SPCA, the following purring pals greet patrons at the history-making eatery:
Snow, a five-year-old white angora with a playful personality.
Sidibou, a three-year-old gray and white cat who is as smart as he is sweet, has learned how to 'sit' and give a high five!
Sea, a one-year-old orange tabby who no doubt has leapt into the hearts of customers as she flips and jumps while playing.
A mellow fellow, Sauvageon– a handsome two-year-old, long-haired tabby– loves to love everyone.
Also a high-fiving feline, Peace– a pretty one-year-old gray tabby– considers Sibidou and Bigfoot her BFFs (Best Feline Friends).
"Dressed" to impress patrons, Munchkin is a one-year old tuxedo cat.
Customers go bananas for King Kong, a six-year-old gray and white cat.
Polydactyl cat Bigfoot– a playful three-year-old brown and white tabby– leaves paw prints on patrons' hearts.
Following Le Café des Chat's lead, since the fall of 2014 Canada has also welcomed the arrival of Montreal cat cafes Le Cafe Chat L'Heureux and Cafe Venosa.
NOTE: Little ones under the age of 12 must be closely supervised by an adult. See the cafe's website for a complete list of restaurant rules.
Location: 3435 Rue Saint-Denis, Montreal, Quebec, Canada
For more information:
This cute clip marks the first anniversary of The Cat Cafe Montreal:
Photo Credit: Le Cafe des Chats Montreal/Facebook