Driven by a mission to curb pet overpopulation, each month the Lucy Pet Foundation's mobile clinic van helps to steer the public in the right direction by providing free spay/neuter surgeries and low cost vaccinations at various venues throughout Los Angeles.
The Lucy Pet Foundation, which provided spay/neuter services for more than 4,000 cats and dogs in 2016 alone, is a registered charity working to stop the loss of over 80,000 companion animals who face their fate in the U.S. shelter system each week. Thanks in part to sales of cruelty-free, USA-made Lucy Pet Products, which can be purchased at specialty stores across the country and online, the non-profit organization is on its way to one day placing a spay/neuter and adoption mobile clinic in every major city in the nation.
To help the organization support mobile spay/neuter and adoption mobile clinics, you can help in several ways:
Purchase Lucy Pet Products. Each purchase helps The Lucy Pet Foundation get closer to their goal! Be sure to check out the company's Cats Incredible litter, which doesn't simply mask litterbox smells, it prevents stinky ammonia from forming in the litterbox in the first place!
Make a single donation by visiting The Lucy Pet Foundation's website. Donors can designate which state they would like their contribution to be distributed, if they choose. Animal lovers who donate $20 and enter the promotion code Tote will receive a FREE tote bag as a thank you from The Lucy Pet Foundation.
Make a monthly donation. Set up a fixed amount to be donated every month throughout the year to help the foundation fulfill its mission.
Please Share This with Your Friends in Los Angeles
The mobile clinic's May schedule is posted below. Drop ins are welcome for pet parents with dogs or cats who need low cost vaccinations, deworming, licensing or microchipping. Spay/neuter surgeries must be scheduled in advance. Visit The Lucy Pet Foundation website to make an appointment.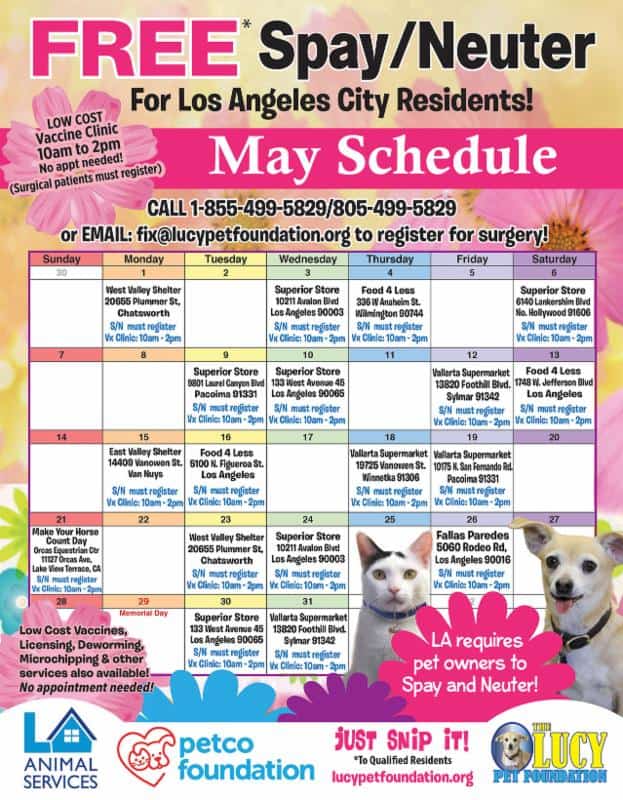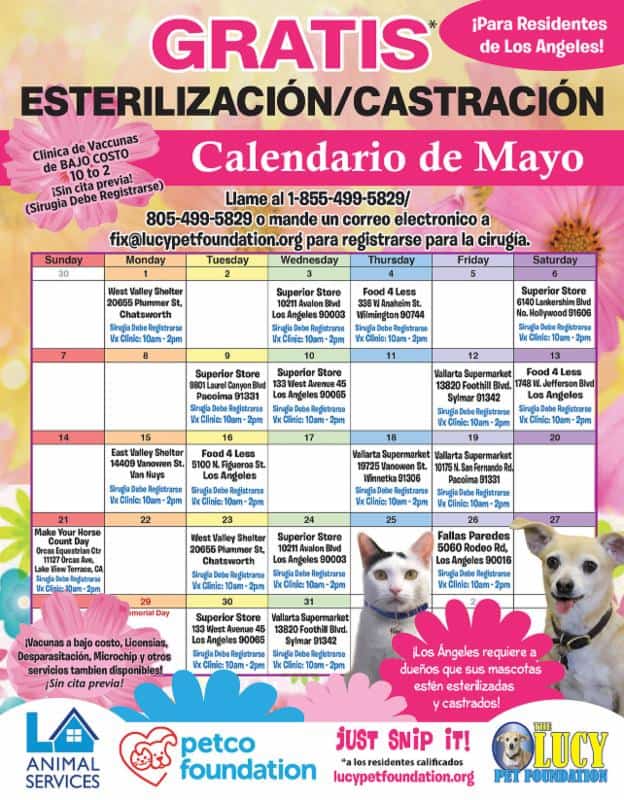 Lucy Pet Products' Cats Incredible litter is a CatTipper sponsor. As always, we only share companies that we believe in and we know you will, too!