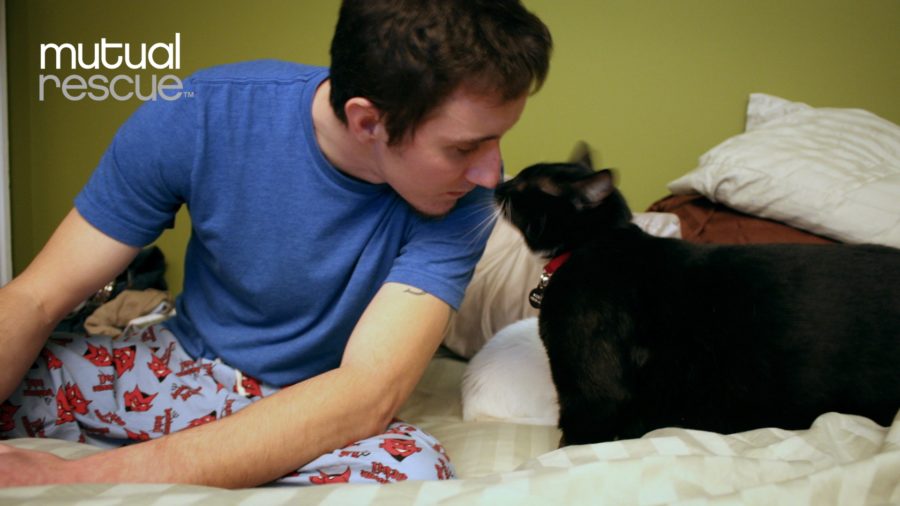 When Josh Marino was struck by flying debris from a mortar attack while serving in Iraq, the blast not only injured him physically — it also rocked the very foundation of his psyche. Suffering from multiple concussions, Marino "soldiered on" through his tour of duty, not realizing the internal battle he would have to fight upon his return to the States.
Struggling with headaches, severe anxiety, and the feeling of being perceived as "damaged goods," navigating the psychological minefield of his PTSD symptoms each day preyed upon him, and in the winter of 2008 Marino contemplated suicide. As he planned to end it all, he had no idea that the start of a new chapter in his life was about to unfold.
While outside in the rain smoking one last cigarette, Marino heard the mews of a kitten hiding in the bushes. Finding a non-judgmental friend in the tiny tuxedo cat, Marino's focus shifted from his pain to his new purring pal. Marino treasured the cat's daily visits…then one day he was nowhere to be found.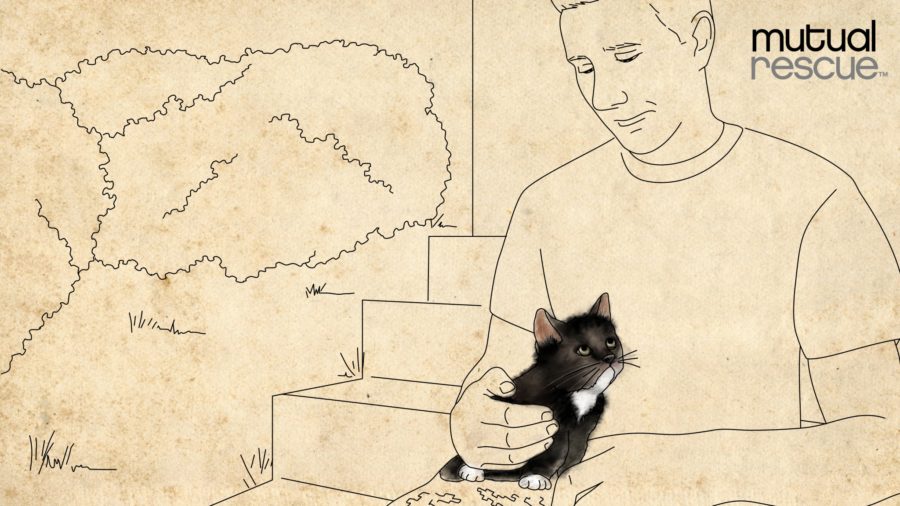 While it appeared as though their tale had come to an end, a few months later fate stepped in to reunite Marino with his feline friend when the soldier and his girlfriend paid a visit to an adopt-a-thon. Walking past the rows of cages, a familiar paw reached out for Marino. Finding the cat who had saved him from himself when he was at his lowest ebb, Marino now had the chance to return the favor. Adopting him that day from Fort Riley Stray Animal Shelter, Marino's "battle buddy" now had a new home and a name…Scout.
After years in a loving home, Scout fell ill with feline leukemia and passed away in the arms of his best friend. Although he has crossed Rainbow Bridge, his legacy lives on in the heart of the Purple Heart recipient and his wife, who today are pet parents to a fur family which includes four rescue cats and three rescue ferrets, and in the military veteran's work at Humane Engineering Research Laboratories, helping those dealing with disabilities.
Viewed more than 13 million times since it was posted in May 2017, Josh & Scout is just one of the many inspirational films on the Mutual Rescue website that shine a light on the human/animal bond. An animal welfare initiative of Humane Society Silicon Valley, Mutual Rescue is sponsored by PetSmart Charities.
Photo Credit: Humane Society of Silicon Valley