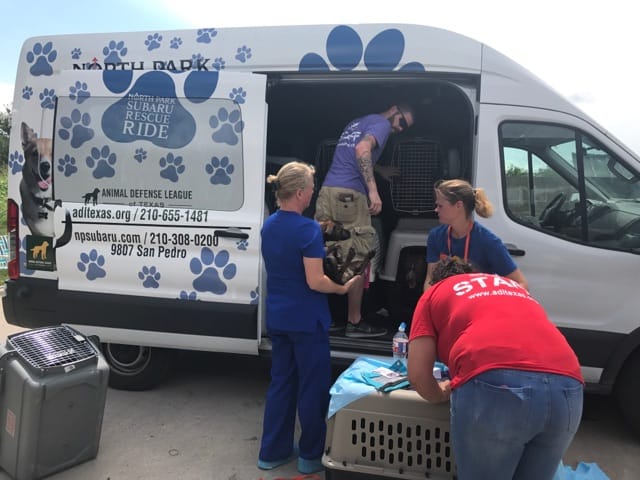 As flood waters recede in cities ravaged by Hurricane Harvey, a steady stream of compassionate companies and organizations have advanced upon the affected areas to offer aid to both the two-and four-legged victims of the natural disaster. Among the many who have traveled to Southeast Texas on missions of mercy are Joey Herrick, the founder of Lucy Pet Products and The Lucy Pet Foundation; LPF's Chief Veterinary Officer, Karen "Doc" Halligan and LPF Registered Veterinary Technician Casey Jenkins.
Understanding the horrors left in a hurricane's wake after helping injured animals in the aftermath of Katrina, Dr. Halligan — a former Director of Veterinary Services for spcaLA and a star of the Animal Planet series Dogs 101 — has embarked on a trip to Brazoria County so cats and dogs in one of the regions hardest hit by the category four hurricane can begin to heal in both body and spirit.
Explaining the expedition, Halligan stated: "The Lucy Pet Foundation will assist in the day-to-day treatment of shelter pets and help with the constant influx of animals in need of medical care for upper respiratory problems, skin infections, ringworm plus help manage the 300 plus animals being housed at the nearby fairgrounds."
Talking about the cats and canines she has encountered since her arrival, the well-known veterinarian said: "It is just astonishing to see the number of pets who are lost, homeless or injured as a result of this devastating hurricane. It breaks your heart to see animals in pain and in shock. They are so vulnerable and afraid."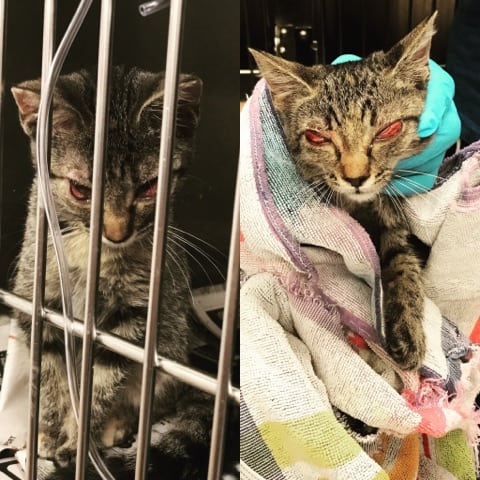 Doc Halligan reports that this kitty is now quickly improving and should be as good as new in about a week!
Along with tending to the animals' physical well-being, the Lucy Pet Foundation is also providing their "products with a cause" for animals in need and making available much-needed space for displaced cats and dogs waiting to be reunited with their pet parents. This is made possible by emptying cages through the transport of adoptable shelter animals to other states, where they can find loving families to call their own.
"We were asked to deploy by the Brazoria County SPCA, "Lucy Pet Foundation founder Joey Herrick stated. "We are familiar with this organization through adoption events held at this location in the past. We are proud to be assisting after this devastating natural disaster." Brazoria County SPCA has been inundated with more than 1,000 homeless and hurt cats and dogs since the hurricane struck, with more arriving on a daily basis. Visit The Lucy Pet Foundation to find out how you can make a contribution to help the charity's efforts to aid the animals affected by hurricane Harvey.
The Lucy Pet Foundation
A registered non-profit working to end the loss of more than 80,000 companion animals each week in the U.S. shelter system, in 2016 alone The Lucy Pet Foundation provided spay/neuter services for more than 4,000 cats and dogs. Thanks in part to sales of USA-made, cruelty-free Lucy Pet Products (which can be purchased at specialty stores across the country and online), the non-profit organization is well on its way to one day placing a mobile spay/neuter and pet adoption clinic in every major city in America.
Follow Lucy Pet's Lifesaving Work in the Houston Area!
Watch for new images throughout the day on the incredible work that Lucy Pet Products is doing to help animals in this hurricane-ravaged area of Texas:
We are proud that Lucy Pet Products' Cats Incredible cat litter is a CatTipper sponsor.