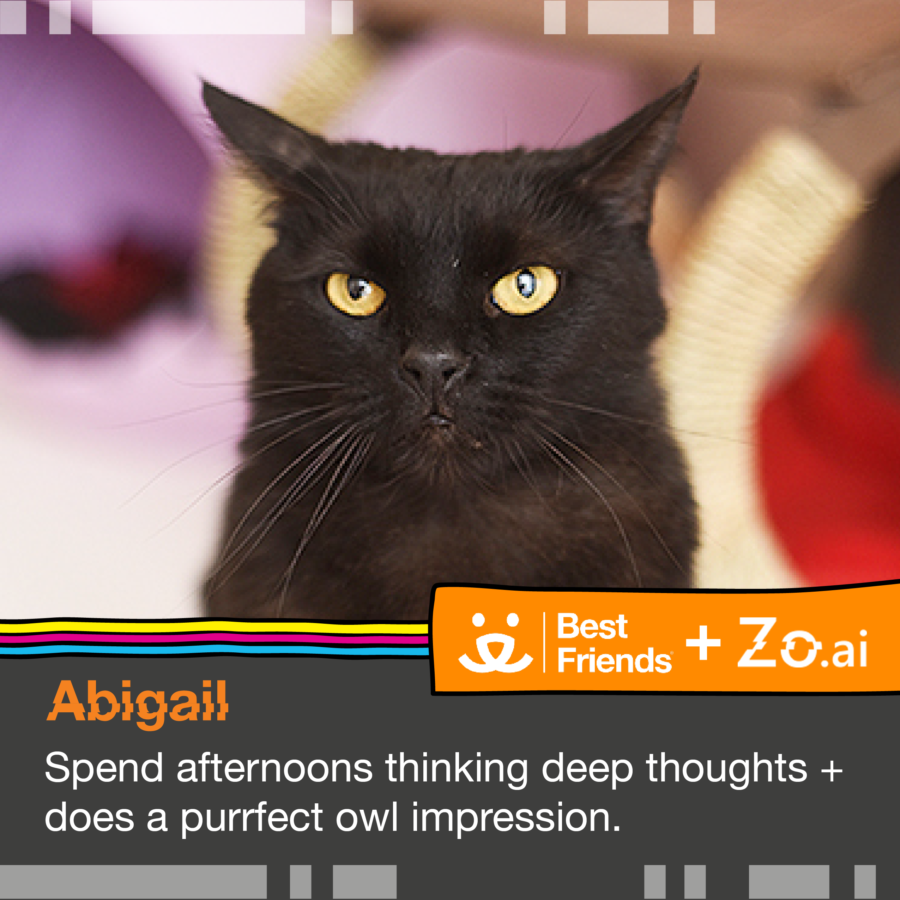 National Black Cat Day is just around the kitty corner, and in celebration of the impending pet holiday, Zo– Microsoft's social chatbot– will become a social chatbot (to use the French word for our feline friends) as she shares photos and information about adorable, adoptable ebony fur babies for Best Friends Animal Society's first ever social AI campaign!
Starting November 9th and running through National Black Cat Day (which takes place on November 17th), Zo's user base on Facebook Messenger, the mobile messaging service Kik and GroupMe (contact: Zo) will see snapshots of cats with dark coats from Best Friends Animal Society, with Zo asking her online friends to help her choose purring pals to sponsor.
The AI (artificial intelligence) computer program will also ask fans of felines to educate the public about the true beauty of black cats by sharing photos via social media channels of the adoptable felines, as well as information about Best Friends Animal Society, which operates the largest no-kill sanctuary for companion animals in the country and has regional centers in New York City, Los Angeles, Atlanta and Salt Lake City. Since its start in 1984, Best Friends has played a vital role in reducing the number of animals who face their fate in the US shelter system each year from 17 million to approximately two million, and is striving to Save Them All by 2025.
A member of the Microsoft social bot family, Zo recognizes and responds to text, photos and voice in real-time.
"Conversational AI technologies, like Zo, enable more humane conversations that meet users where they are on many of the most popular chat platforms. Partnering with Best Friends Animal Society allows Microsoft to further develop Zo's social presence and empathy intelligence, while also helping cats find permanent homes," stated the Director of Zo.ai, Ying Wang.
For more information regarding Best Friends Animal Society's mission, visit Facebook.com/bestfriendsanimalsociety, on Twitter at @BestFriends and @BestFriendsAnimalSociety on Instagram.
Photo Credit:  Best Friends Animal Society