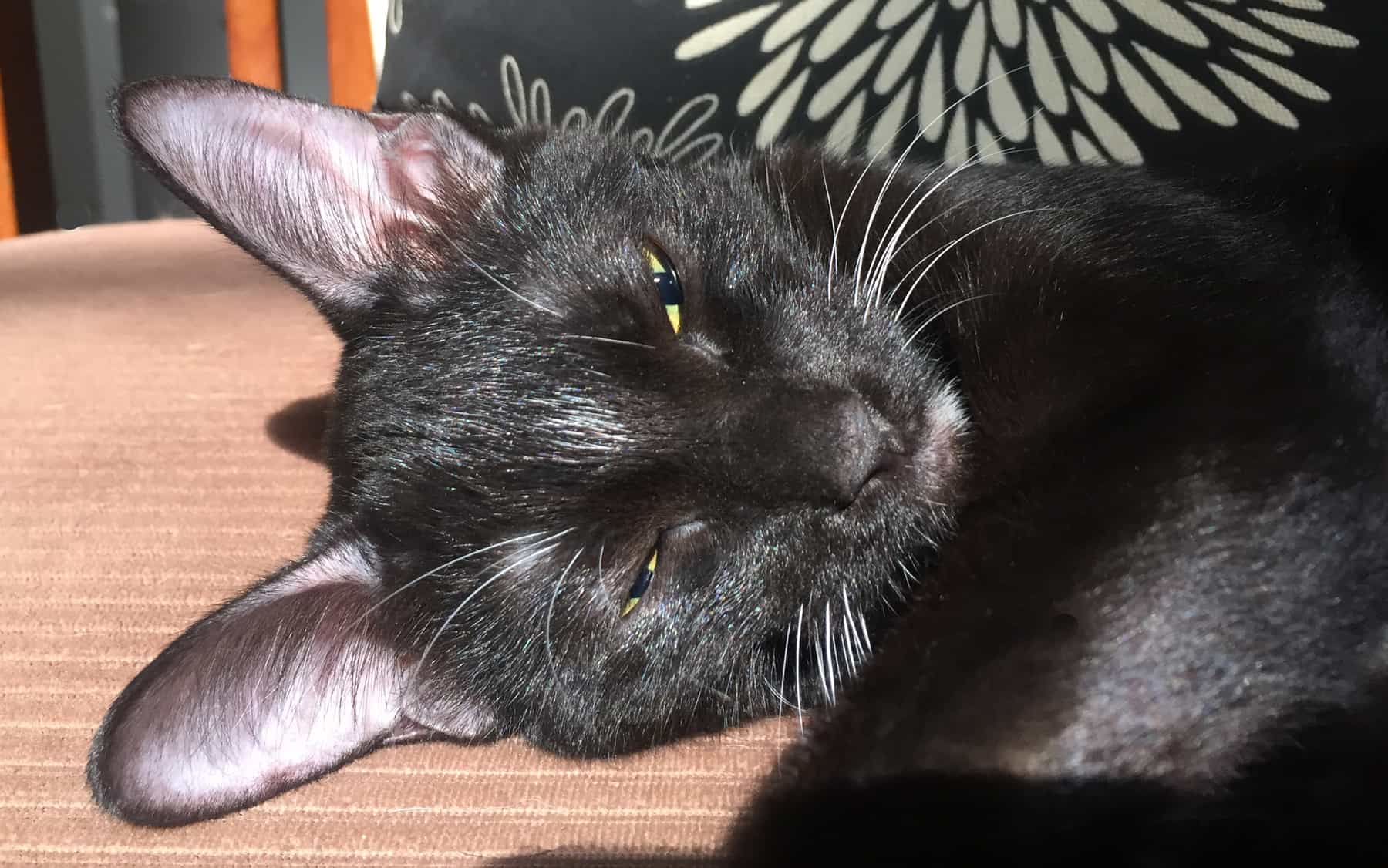 Rachael Ray Nutrish has sponsored this post, but all opinions are my own.
Watching our kitten Jetty sleep–or eat and play (and play, and play, and play!), I'm amazed at how quickly she has become part of our family. Now 16 weeks old, with four of those weeks spent in our home, you'd never know that her life had included evacuation from a town that was flooded by Hurricane Harvey. The only signs that Jetty's early days had more than their share of challenges are the fire ant bites that are still healing on her paws.
Jetty is just one of thousands of homeless pets in Texas, Florida and beyond who found themselves in the path of a hurricane this year. To the population of homeless pets already in the care of shelters when the storms hit, add to that animals relinquished by owners who could no longer care for their pets after their homes and livelihoods were left in shambles, and the many pets lost and separated from their families by the storm. The result is a shelter system that needs assistance more than ever before.
Following massive donations in September, Rachael Ray Nutrish is now donating $250,000 during the month of October to help shelter pets in need. Cash donations will help shelter pets find the homes they deserve, part of the Rachael Ray™ Nutrish® Furever Home™ effort that includes not just a quarter million dollar donation but also a sweepstakes that gives entrants the chance help homeless pets AND enter to win $25,000 and more great prizes!

Donations Help Three Organizations
Rachael Ray Nutrish is donating $250,000 during the month of October, a cash donation that will be made in equal amounts to three organizations:
ASPCA (American Society for the Prevention of Cruelty to Animals®): a national leader in the areas of rescue, adoption and welfare and has worked tirelessly for over 150 years to put an end to animal abuse and neglect.
North Shore Animal League: the world's largest no-kill animal rescue and adoption organization.
Big Dog Ranch Rescue: the largest no-kill dog rescue in the Southeastern United States
Throughout the storms, these organizations have worked around the clock to help homeless pets.  ASPCA worked to rescue pets, relocate displaced shelter animals, and to care for pets while their owners were in shelter care during evacuation. During Irma, ASPCA established a mega emergency shelter in South Carolina, transporting over 600 shelter animals and distributing supplies to emergency shelters and local animal shelters across Florida. North Shore Animal League's Mobile Rescue Unit drove to Houston with food and water, blankets, beds, toys, and supplies to help both the animals and people impacted by Harvey, then returned home with pets already in shelter care, freeing Texas shelters to help both lost and owned pets. During Irma, NSAL coordinated transports back to New York–and now the rescue organization is in talks with partners in Puerto Rico and the Caribbean about how to help after Hurricane Maria. And Florida's Big Dog Ranch Rescue flew in shelter dogs from Texas after Hurricane Harvey, only to be met with disaster closer to home during Hurricane Irma.

Lifesaving efforts require money–and the $250,000 that your Nutrish purchases have funded will save thousands of cats like our Jetty–and help shelter pets find a FUREVER HOME. These are the latest donations in the long line of charitable giving done by Nutrish since 2007 when, with help from pet nutrition experts, Rachael Ray created Nutrish super-premium food and treats for dogs inspired by recipes from her own kitchen. In 2014, Nutrish entered the world of cat food. Whether for cats or dogs, Nutrish recipes are made with simple, wholesome ingredients like real meat or fish, and do not contain poultry by-product meal or fillers.
Rachael's Rescue® was created for all of the forgotten pets – the ones who might not have someone who loves them as much as they deserve. A portion of proceeds from each sale of Nutrish is donated to The Rachael Ray Foundation, which helps animals in need through Rachael's Rescue. Through September 2017, Rachael's Rescue has donated more than $21 million to pet charities and other organizations that do good for animals. The funds are used for food, medical supplies, treatments, and more for animals in need. Many more animals around the country need help, and through Rachael's Rescue, together we can make a difference in the lives of many four-legged friends.
How to Enter to Win $25,000
Celebrating the joy of rescue, the Nutrish Furever Home Sweepstakes features four amazing prizes:
Grand Prize: $25,000 and a one-year supply of your choice of Nutrish® dry cat or dog food.
THREE (3) First Prizes: $5,000 and a one-year supply of your choice of Nutrish® dry cat or dog food.
You can enter by making a Nutrish purchase or not–here's how to enter!
If you've purchased any Nutrish®-only product between Oct. 1, 2017 and Oct. 31, 2017, visit www.nutrishfureverhome.com and follow the on-screen instructions to complete the registration form with your contact information, including email address. Upload a digital photo of your original purchase receipt with the Nutrish product circled to receive one entry into the Sweepstakes.
To enter without a purchase during the sweepstakes period, visit www.nutrishfureverhome.com — you can even enter by mail.
The sweepstakes is open to legal residents of 50 U.S/D.C. age 18+ (or 19+ in Alabama and Nebraska). The giveaway ends Oct. 31, 2017 at 11:59:59 p.m. ET.
Good luck!