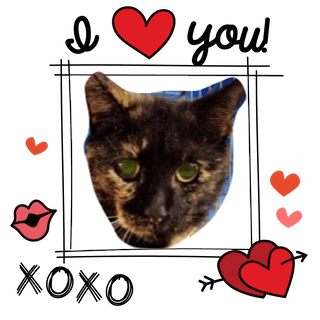 Rachael Ray Nutrish has sponsored this post, but all opinions are my own.
I love volunteering to help our local shelters. Nothing beats in-person assistance to provide care for homeless pets. It's a need that's day-in and day-out, 365 days a year, at shelters and rescues all across the country.
But, we all know, sometimes life gets in the way. Sometimes our desire to help surpasses our schedule, and, at least for a time, there's just no chance for volunteering to help homeless cats as far as hands-on assistance.
However, regardless of your schedule, social media can be a great way to help publicize both adoptable cats and the efforts of your local shelter, whether that's an upcoming special event, a fundraiser, or a wish list. Using your favorite social media platform, it's quick and easy–and free–to give a few minutes of your time in a volunteer effort right from the comfort of your home.
As you know, each of our cats is from an area rescue. Inca is from what is now Texas Humane Heroes. Lucky and Ochi are both from Austin Pets Alive, the rescue that took them in from smaller shelters in the area. Lucky was originally in the care of Bastrop Animal Control and Ochi was with Lockhart Animal Control, both small town shelters with limited budgets.
Both Lockhart and Bastrop are over an hour's drive from our home but, whenever possible, I try to help these shelters by checking their wish list, their upcoming events, and their news as well as their adoptables. Even the smallest shelters often list their adoptable animals on their Facebook page and/or on adoption sites like Petfinder, PetHarbor, and Petango. Here's little Tilly, an adoptable at Bastrop Animal Control: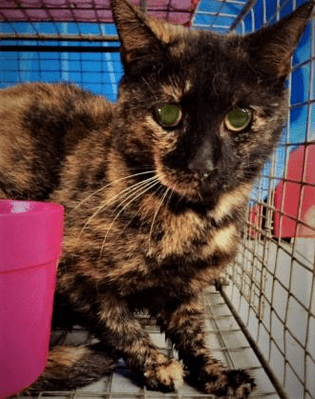 Tilly is a beauty–but the distraction of the cage and the bowl take away from her sweet face–and lend a somewhat sad look to the photo. While larger shelters often have talented volunteers (sometimes even professional pet photographers) who donate their time to snap wonderful shots, unfortunately busy animal control offices frequently just have time for a quick snapshot. While it's definitely better than nothing, it could be so much more effective with just a little fun element that would draw eyes when shared on social media.
Nutrish just launched a brand-new app called NutrishMojis for download on IOS and Android that makes it super easy–and fun–to crop and add playful elements to any pet photo. Just upload a photo and turn it into a custom sticker! You can download the free app here: http://apps.swyftmedia.com/nutrishMojis
I gave the app a try with Tilly's photo: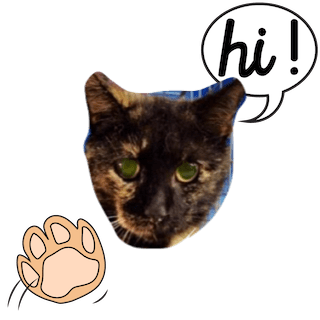 Now THAT photo will grab attention when I share it on social media! The app includes an array of social sharing tools (or you can email it to yourself, too):
I used the app to post one of Tilly's stickers to Twitter:
Meet super cute Tilly, an #adoptable 1-YO female in the care of #Bastrop #Texas Animal Control! pic.twitter.com/ioSftRTVCK

— DogTipper (@DogTipper) April 18, 2017
The app is so much fun; I know you'll be seeing some great examples on the Nutrish Instagram page! It's really easy to use, and you have MANY choices:
The app is just one of many ways that Nutrish is helping pets. A portion of proceeds from each sale of Nutrish is donated to The Rachael Ray Foundation, which helps animals in need through Rachael's Rescue. Through December 2016, Rachael's Rescue has donated more than $17.5 million dollars to pet charities and other organizations that do good for animals. The funds are used for food, medical supplies, treatments, and more for animals in need!
Be sure to download the app and ask your local shelter about creating some stickers of adoptables in your area to share on your social media channels! (And don't forget to make some super cute stickers of your own cats!)
And we'd love to see you at Thursday's #NutrishDog Twitter party where we'll be handing out over $400 in prizes from Nutrish and our PawZaar boutique (all great prizes for dogs and dog lovers–or great shelter donations if you don't have a canine family member!)