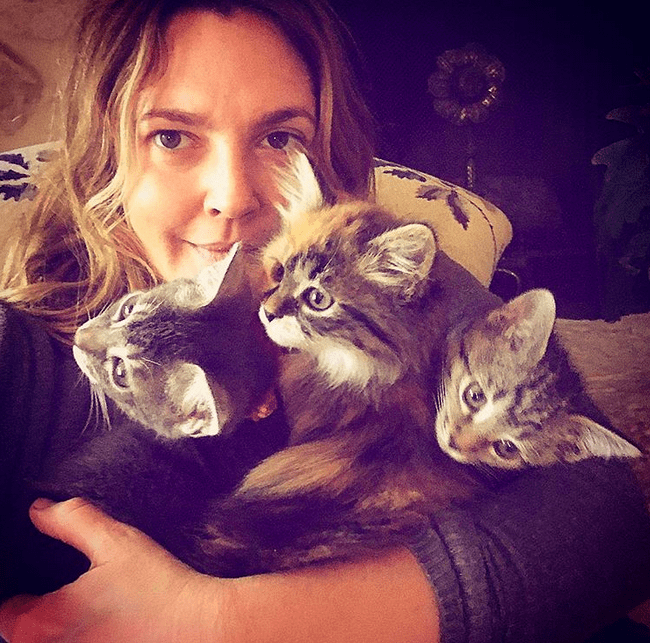 Actress Drew Barrymore, who once filmed scenes with a tabby cat for the 1985 Stephen King horror anthology Cat's Eye, has cast a trio of tabbies in the real life roles of members of her fur family!
Sharing the happy news on social media, the star stated: "If you can believe, my daughters and I went to rescue a cat and came home with three kittens in need. #thekitties #rescue #christmasmiracle or I just became the crazy cat lady? Names are (from left to right) LUCKY (Olive's cat) PEACH (Frankie's cat) FERN (mine) all females #GIRLGANG
Instagram Photo: @drewbarrymore
A lifelong animal lover, in 2016 the actress was the recipient of the ASPCA's Compassion Award, which was presented at the 19th annual Bergh Ball marking the renowned organization's 150th anniversary year.  The star told assembled guests at the gala (which raised close to $1.4 million for the paws cause), "There is such profoundness and energy and altruism that we have with our animals, especially rescue animals, and they feel it back. And there is some level of symbiotic gratitude because you do save each other."

A flashback photo of Drew with her Cat's Eye co-star:
As the following video clip shows, Lucky, Peach and Fern (who now have fur siblings in rescue dogs Lucy and Douglas) are loving life in their new forever home!


Photo Credit: Drew Barrymore/Instagram