If you saw last week's Morning Joe program during the kickoff of the #ShelterCatsAreBeautiful campaign, then you saw Rachael Ray and Thomas Roberts chowing down on some Nutrish for Cats wet food, the Chicken Purrcata:
And why not? All the Nutrish foods are made with ingredients that you probably have in your shopping cart, recognizable ingredients with recognizable names. And they're made with:
No corn, wheat or soy
No meat by-products or fillers
No artificial flavors, colors or artificial preservatives
We also love the fact that, since it launched in 2008, Nutrish has raised more than $6 million for Rachael's Rescue™ which helps homeless animals in need! All proceeds from the food go to help animal causes.
And we love that, for all its natural goodness, Nutrish is priced within the reach of ordinary budgets. A three-pound bag of dry food sells for $7.49 right now at Walmart while a 2.8-ounce cup of wet food retails from 94 cents to $1.09.
Would you like to give Nutrish for Cats a try? (For your cats, I mean. You don't have to eat it like Rachael Ray and Thomas Roberts!) We've got a link for a special Switch to Nutrish coupon so you can give it a try with your own cats!
But, if you'd like a taste of what your cats are enjoying, we've got a fun recipe to share with you. The TV chef formulated a couple of fun family recipes that correspond to her new cat food line, and this week we're giving them a try here and on our DogTipper site. First up: Teriyaki Chicken with Brown Whole Grain Rice, made using many of the same ingredients found in Nutrish for Cats.
We received a gift pack of goodies to try the recipe in our own home, all beautifully wrapped:
In true Lucky style, he was especially interested in the packaging:
Inside were some of the fixings for this special dish from the kitchen of Rachael Ray (along with a bag of catnip, which Linus decided, as senior cat, must be for him.)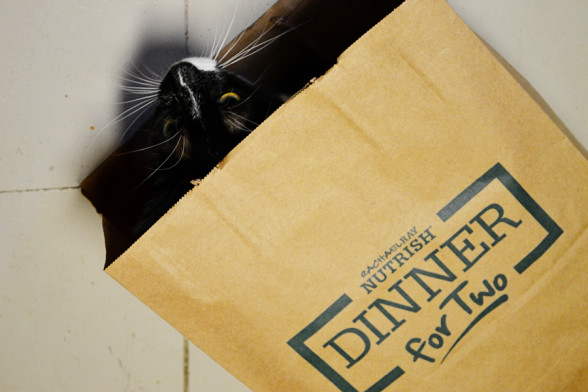 Also included was a recipe card, so I rolled up my sleeves and got to work!
Teriyaki Chicken with Brown Whole Grain Rice
Ingredients
For the rice:
1 1/2 cups chicken stock
1 tablespoon butter
1 cup brown whole grain rice
For the sauce:
1 cup chicken stock
about 1/3 cup Tamari or soy sauce
about 3 tablespoons Mirin (rice wine)
about 3 tablespoons dry sherry
about 2 tablespoons Worcestershire sauce
3 tablespoons sugar
2 thin slices fresh ginger root
1 large clove garlic, crushed
For the chicken:
2 tablespoons high-temperature cooking oil, such as peanut or canola
4 boneless, skinless chicken breasts
Sea salt and coarse black pepper
2 mild drying peppers, such as cubanelle or Anaheim, seeded and cut into thin strips
1 bunch scallions, cut into 2-inch pieces
Preparation
I began by cooking the rice, bringing the stock and butter to a low boil. I stirred in the rice, covered the pot, and cooked the rice per package directions.
Next, it was time for the sauce. All the ingredients for the sauce went into a small pot and were brought to a boil. I let it reduce by half, cooking it for 15 minutes at medium heat, at a low boil.
Finally it was time for the chicken. Heating the cooking oil (I used canola) over medium-high heat, I seasoned the chicken with salt (just a bit) and pepper (more than a bit) and cooked it for about 8 or 9 minutes, turning occasionally. I then popped the peppers in the pan, stirred for a couple of minutes (letting them remain tender-crisp), then added the scallions for about another minute before removing the pan from the heat.
I sliced the chicken into 1/2 inch thick pieces and arranged them on the rice, topping it all with peppers and scallions. Finally, I drizzled the sauce over the chicken and rice.
In the words of Rachael Ray, it was DELISH!
Giveaway!
Would you like to try Nutrish for Cats? We've got a fun giveaway below for an assortment of wet and dry Nutrish for Cats food! Can't wait to see if you win? Don't forget to download your special Switch to Nutrish coupon! Good luck!
This post is sponsored by Rachael Ray Nutrish. All thoughts and opinions are our own. As always, thank you for reading and supporting our sponsors.