Product: SureFlap Microchip Cat Flap
What It Is: a cat door that identifies your cat via his microchip then unlocks the cat door
Manufacturer: SureFlap LLC
CatTipper Review: As our regular readers know, our cats are totally indoor cats. We live in a coyote-filled area and that doesn't mix with cats. (Plus there are many, many other reasons to keep your cat indoors or in the safety of a protected catio at all times for their safety and health…and your own sanity so you're not out searching and worrying…)
But, we know that many of our readers have indoor-outdoor cats that come and go from their homes via a cat door. While a traditional cat door is convenient, it's also worrisome in that it presents a way for other cats–and other kinds of wildlife or small dogs–to enter your home, too.
That's where the SureFlap comes in. This battery-operated cat door lets your cat comes and go from your home…but keeps out other cats and small animals. The door will not open for any other furry visitors.
The SureFlap works by identifying your cat by his microchip and then unlocking the door! The unit is compatible with all the types of microchips that are commonly implanted in pets including 15-digit (also known as FDXB); most 10-digit or FDXA chips except those starting with 000, 010 or 020; and 9-digit microchips. If you are not sure what kind of microchip your cat has, your vet can probably help you find out by scanning it for you.
The unit can be installed in just about any door where you'd install a traditional cat door. You install it so that it's facing forward with the battery compartment inside your house. You'll install four AA batteries (they should last about six months, according to the manufacturer's instructions).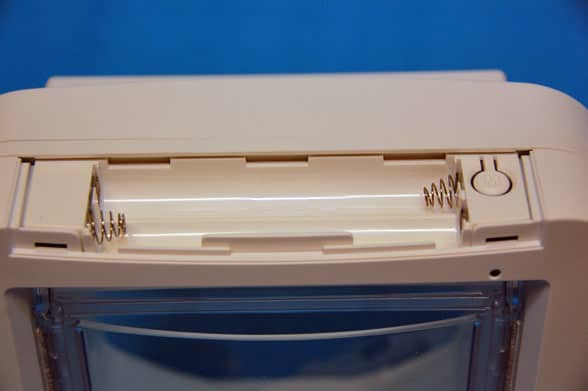 See the circle with the "M" symbol just to the right of the battery compartment? That's a memory button; you'll press it so the unit can "learn" your cat's specific microchip number. Have multiple cats? No worries…the unit will learn up to 32 microchips!
It's as simple as getting your cat to walk through the flap to get the device to learn the microchip. It recognizes the chip through two sensors in the top, inside of the unit: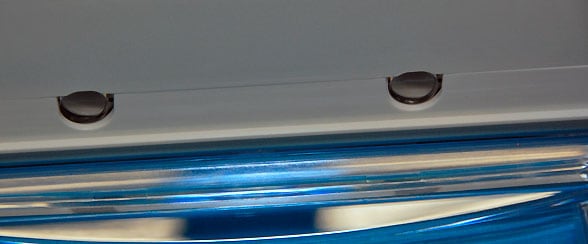 In its normal setting, your cat will be able to leave the house but, to return, the device will need to recognize your cat's chip to unlock the cat door. There's also a manual lock so you can totally lock the unit, keeping your cat either indoors or outside: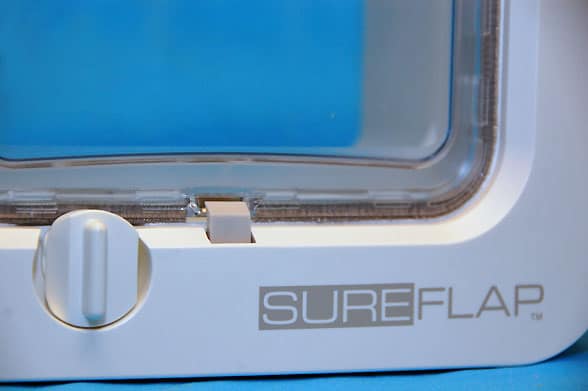 This raised knob (on the left) means the unit is completely locked; if the knob is horizontal, the unit is set to normal position and your cat can come and go. There's also entrance only (for example, if you need to get your cat in for the night or in to then go the vet) and exit only so once he leaves the house he can't get back in (say maybe you're refinishing the floors).
The unit comes in two pieces, like most cat doors, so there's a front piece and a back (outside of the door) piece: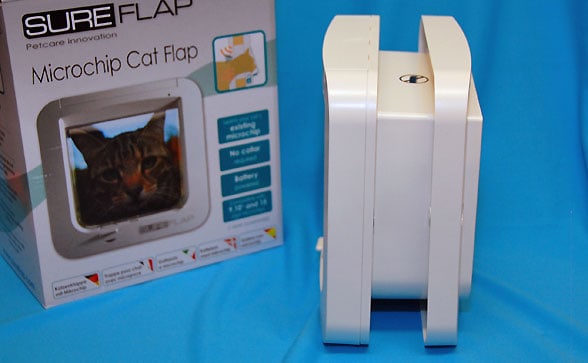 The flap itself (not the entire unit, just the part your cat will pass through) is 5.59 inches wide by 5.39 inches high. That's large enough for most cats (and even very small toy dogs) but, if your cat is especially large, be sure to measure your current cat door to see if it will work for you. Here's a photo of our 12-pound Linus beside it: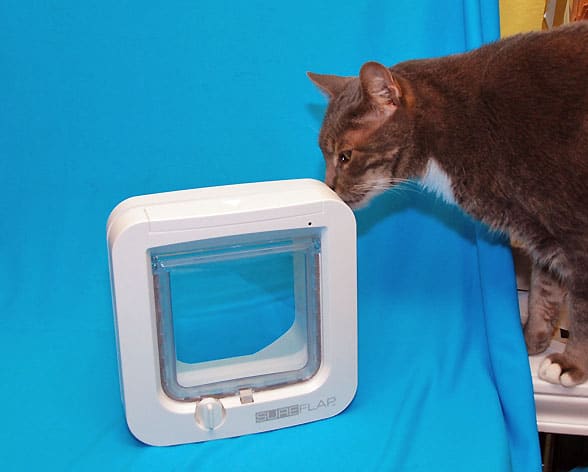 If you have an indoor-outdoor cat, we think this is a great product…a big paws up!
For More Information:
visit http://sureflap.com (includes installation videos)
call 1-888-864-1115
email support@sureflap.com
Disclosure: We received a sample product to review; we were not paid for our review and all statements and opinions are entirely our own.