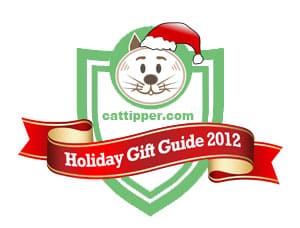 We love nice pet tags, ones that will hold up but, at the same time, be comfortable for them with no scratchy edges. This past year, we had the chance to create custom tags at DogTagArt.com and we couldn't be happier with the result.
In fact, I even have used one of their tags as a necklace for myself! I've worn it to pet expos and pet writing conferences and have received so many compliments. It's a true test to the comfort of the tags; I wore it with a scoop necked tee and the tag is as comfortable as fine jewelry.
Along with the custom tags, DogTagArt.com also has a virtual leash program; you register your tag and receive a unique URL imprinted on the tag. When a missing pet is found, this web address can be accessed and the pet owner notified via email, text message, Twitter or voicemail.
You can create your own custom tag with a photo of your cat or your logo, like we did…
…or select from one of their cute holiday (or other) designs…
We love these durable and colorful tags for your cats, dogs or YOU!
We're giving away three cat tags from DogTagArt.com, perfect for your cat, small dog, or you!
Price:
Tags: $11.99
Virtual Leash Lifetime (for pet's lifetime): $89 (includes tag)
Virtual Leash Annual: $19 plus $11.99 for tag
Virtual Leash free version: $11.99
For More Information:
Disclosure: We received a subscription to Dog Tag Art for review; we were not paid for our review and all opinions are entirely our own.