2012 Gift Guide: Grain Free Buddy Biscuits for Cats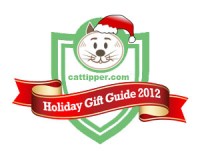 As many of you know, our two senior cats, Felix and Linus, had numerous tooth extractions in 2011. Since that time, they both eat primarily wet food although now and then they'll eat some dry food that we have out for Coco and Inca. When it comes to treats, though, we're always on the lookout for soft treats for Felix and Linus that won't be hard on their gums.
Grain Free Buddy Biscuits caught our eye for their 100 percent grain free, gluten free formulation — but once we had the treats on hand to review we found out another important feature for Felix and Linus: they're all soft treats! Made in the USA without any artificial colors, flavors or preservatives, the treats are also devoid of corn, wheat, soy or eggs. They're available in three flavors: Savory Turkey & Cheddar, Tender Chicken, and Tempting Tuna.
Our cats give these treats a big paws up!!
Price: $3.95 for a 3-ounce bag

For More Information:
Disclosure: We received Buddy Biscuits for our review but opinions are our own…and those of Felix, Linus, Inca, and Coco…