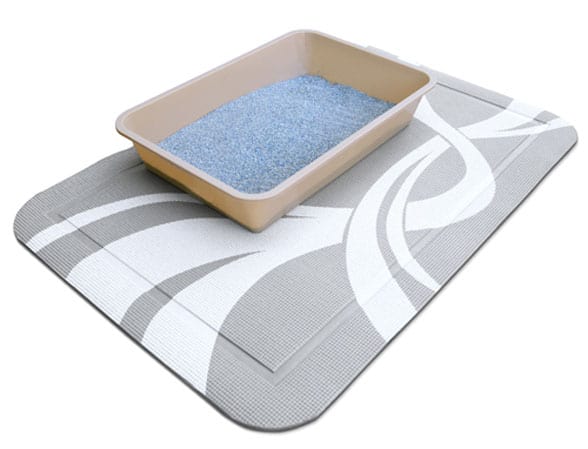 Although cats are clean by nature and are practically self-training when it comes to the litterbox, there are still some cleanliness issues, especially if you have a multi-cat household like ours. Our two male cats are particularly energetic when they visit the litterbox, often scattering litter all around the box. This PetFusion product promises to help corral those grains of litter which would ordinarily end up on our floor. It is particularly helpful when the litterbox is located in a carpeted area of the home.
The SmartGrip Cat Litter Mat provides a soft, pliable surface with a unique pattern of indentations which are designed to capture stray litter and keep it in place until you can clean it up. The mat measures 34″ x 26″; when used with a standard-sized litterbox, the mat provides an ample border for controlling stray litter.
Captured litter can be easily disposed of in several ways:
sweeping with a broom and dust pan
folding the mat and pouring clean litter back into the box
vacuuming the mat (though not with a vacuum with a beater bar)
The mat itself can be wiped clean with a damp sponge or cloth to control odors.
The SmartGrip Cat Litter Mat comes in a choice of two neutral colors (gray and beige) designed to blend into most home decors. A big paws up for this stylish and efficient way to manage loose litter!
Price: MSRP $34.95, currently offered at discounted price of $19.95 from the PetFusion website or through Amazon.com.
For More Information or to order:
Disclosure: We received a SmartGrip Cat Litter Mat for review; we were not paid for our review and all opinions are entirely our own.
Image courtesy of PetFusion. LLC