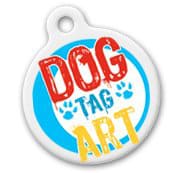 Product: Dog Tag Art Virtual Leash
What it is: Personalized pet tags linked to online profile
Manufacturer: Dog Tag Art, Asheville, NC (Made in USA)
CatTipper Review: Dog Tag Art's Virtual Leash system was launched when founder Jack Carrier's Labrador Retriever, Maggie, kept getting lost. Although Maggie was eventually found, Carrier began devising a better way to ensure that lost pets could be quickly reunited with their owners. The result is a system which merges the traditional pet tag with the power of the Internet.
After the Virtual Leash account is set up, pets receive a unique web URL which is imprinted on the tag. Then, when a registered missing pet is found, this web address can be accessed and the pet owner notified via email or social media.
The company offers both paid and free versions. With the paid version, you can set up your pet's profile with an unlimited number of emergency contacts such as parents, children, neighbors, veterinarians, etc. while the free version is limited to one contact and  includes only email notification. Both versions can also include a link to Google Maps to display suitable locations where your missing pet can be returned (free version limited to one such location). All of the profile information can be updated as often as necessary.
The Dog Tag Art tags are nice products in their own right and are intended to be customized. Upload the photo of your choice via the company's website and it is rendered in full color on a heavy, polymer-coated steel tag. The tag is substantial and has a perfectly smooth, porcelain-like surface. The back of the tag is engraved with the contact information of your choice along with your pet's profile URL. The tags are made in the USA and carry a lifetime warranty for readability.
If you don't want to use your own photo, you can choose from dozens of colorful, witty tag designs created by Dog Tag Art artists from the website's tag gallery. The tags come in two sizes: Large (1-1/4″ in diameter) and Small (7/8″ diameter), which may be more suitable for cats.
We had our tags imprinted with our DogTipper and CatTipper logos: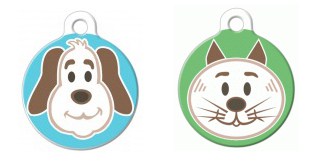 and were very pleased by the results. If you have wandering feline, check out Dog Tag Art's Virtual Leash system.
Price:
    Virtual Leash Lifetime (for pet's lifetime): $89 (includes tag)
    Virtual Leash Annual: $19 plus $11.99 for tag
    Virtual Leash free version: $11.99
For More Information:
Disclosure: We received a subscription to Dog Tag Art for review; we were not paid for our review and all opinions are entirely our own.