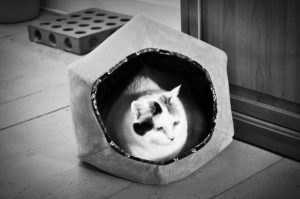 We're always on the lookout for products that are comfortable and fun for our cats, appealing to their feline instincts, while, at the same time, looking good in our home. We found a super combination of cat toy and bed that's as stylish as it is fun: The Cat Ball.
The Cat Ball is, like the name suggests, a ball-shaped place for cats to hang out, play and nap, all in the seclusion that they might get from a box or paper sack…but in a much more stylish way.
We reviewed the Cat Ball in sage green polyester microfiber although you'll find a wide variety of prints and colors to complement your decor. The interior of the Cat Ball is 100% cotton.
The Cat Ball arrives folded…
…and the seams are finished with hand cut bias in a coordinating print…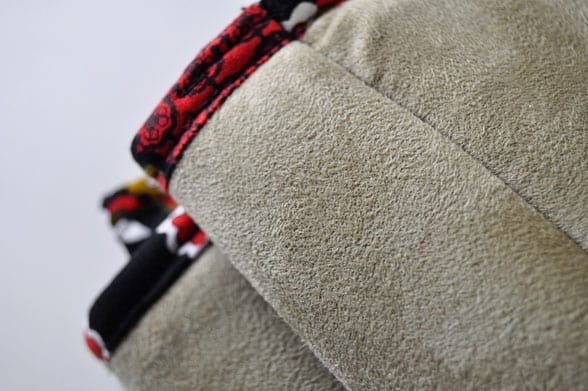 The Cat Ball has two openings measuring 10″ and 6″. (There's also a Jumbo Cat Ball that's large enough for a Maine Coon.) Our largest cats, Coco and Linus (each about 15 pounds) had no problem getting in and out of the original-sized Cat Ball. The dual openings are great for multi-cat households like ours as cats can reach out (or in) to play.
As soon as the Cat Ball was unfolded, we had a crowd. Inca was the first to hop in the Cat Ball as Linus and Felix watched…
Soon Coco was checking it out (and that's Inca's tail coming out the back of the Cat Ball)…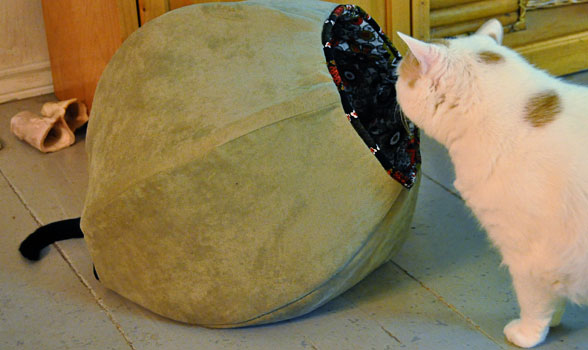 Soon Coco was claiming the Cat Ball as her own…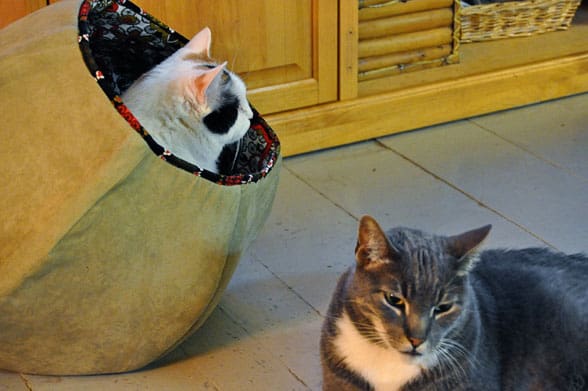 Sold in Jenna's Red Rhino Etsy store as well as in an online store, the product's inventor developed the patterns and construction technique, and now makes this product from her home based studio, using her background in apparel design, pattern making and costume design to create this unique product.
The Cat Ball can be vacuumed and machine washed on cold in a front-loading washer. (More washing instructions can be found on the Cat Ball website.) Along with the Cat Ball, the site also sells the Cat Canoe.
Our four cats give the Cat Ball a huge paws up!
Price: The original size Cat Ball is priced at $69 (although the shop lists several styles at sale prices). The Cat Canoe is priced at $29.
For More Information:
Disclosure: We received a Cat Ball to review; we were not paid for our review and all opinions are our own (with a lot of input from Felix, Linus, Inca and Coco!)