This is a sponsored post; we have been compensated by Hill's Pet Nutrition. Hill's Pet Nutrition, Inc. is not responsible for the content of this article.
We've written before here on CatTipper about our home in the country–some would say the boonies–surrounded by a nature preserve (one that protects endangered Golden-Cheeked Warblers). Since we sold an easement to the preserve for the back half of our property in the past year, we've become very conscientious about purchasing natural produc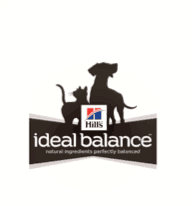 ts whenever possible, whether those products are for use in our home, on our lawn, or with our pets. And, besides our own experiences, we know from talking with pet parents that they share our concerns about finding high-quality cat food (and dog food) that will be natural, healthy, and affordable.
Because of our interest in natural products for all aspects of our lives, we were interested in learning more about Hill's® Ideal Balance™ pet food, a new line that answered consumer demand for natural pet food.
Back in February when we attended Global Pet Expo pet product tradeshow in Orlando, we were introduced to this new food created by the nutritionists at Hill's. It launched to a lot of buzz including a press conference with trade media:
What was all the buzz about? Hill's, long known for its Science Diet, was launching a natural food line.
Formulating Natural Cat Food
Along with its position as a natural food, this new Ideal Balance line has no corn, wheat, soy, artificial colors, flavors or preservatives.
The development of the new pet food was done in conjunction with input from pet parents. First, Hill's asked pet lovers what they'd like to see in a natural food. The top answers?
fresh fruits
vegetables
meat-based protein
With those requests in hand, Hill's went to the many nutritionists on their team to develop the new recipes–ones built around high quality, natural ingredients such as apples, cranberries, and brown rice.
Finding an Ideal Balance in Your Cat's Life
Over 50 nutrients were used at optimal levels to create balanced, natural cat food and dog food. The balanced pet food was just one step in a three-fold approach that Hill's emphasized:
Exercise and rest
Living a well-balanced work / life ratio
Eating nutritious, balanced food
We have to say that it's an approach that we need to work on, not only for our cats but for ourselves!
Marketing the New Pet Food
As with development of the new food, marketing of the new line was done differently as well. Have a behind the scenes look at the shooting of the new Hill's Ideal Balance commercial about the natural cat food:
Try Hill's Ideal Balance for FREE!
Don't miss the rebate offer on the Hill's site to receive a rebate of up to $12.99 on any 2-pound or larger bag of Hill's Ideal Balance!
What ingredients do YOU look for in a natural pet food?