Whether you're shopping for yourself or for a fellow cat lover, we wanted to showcase a few of our favorite things in this year's Holiday Gift Guide! (Looking for a gift for a dog or dog lover? Don't miss our Holiday Gift Guide on DogTipper, too!)
For Your Cat

Cats Incredible Tote + Litter Gift Certificate
Here's a gift for you AND your cat. Purr-fect for a day of shopping or a day at the beach, the Cats Incredible(TM) Reusable Tote Bag features "Ricky the Rescue" cat on both sides. You can get a FREE tote bag by purchasing a gift certificate for a 14-pound bag of Cats Incredible litter. With its ability to stop ammonia from forming in the litterbox, your cat will thank you for it! Truly a gift that gives back, 100% of net profits from the sale of this gift certificate help fund The Lucy Pet Foundation!
Neko Flies U J I Tunnel System
Of all the cats' many toys, one of Jetty's favorites is the Neko Flies U J I Tunnel System. Sold separately or as a set, the system features three shapes of tunnels: a U-shaped tunnel, a J-shaped tunnel, and a straight I-shaped tunnel. If space is tight, start with one tunnel (the U-shaped one is great because you can button the two sides together with a toggle).
With a kitten in the house, we keep food out around the clock, and the SureFeed Sealed Pet Bowl helps keep food fresh and bug-free. When a cat approaches this feeder, a motion sensor automatically opens the bowl. Once the pet has finished eating, the bowl closes creating an airtight seal that keeps food fresh and moist until the next time the cat approaches. The quiet mechanism will not distract or scare pets, and it automatically detects obstructions when closing. We use ours every day!
For Cat Lovers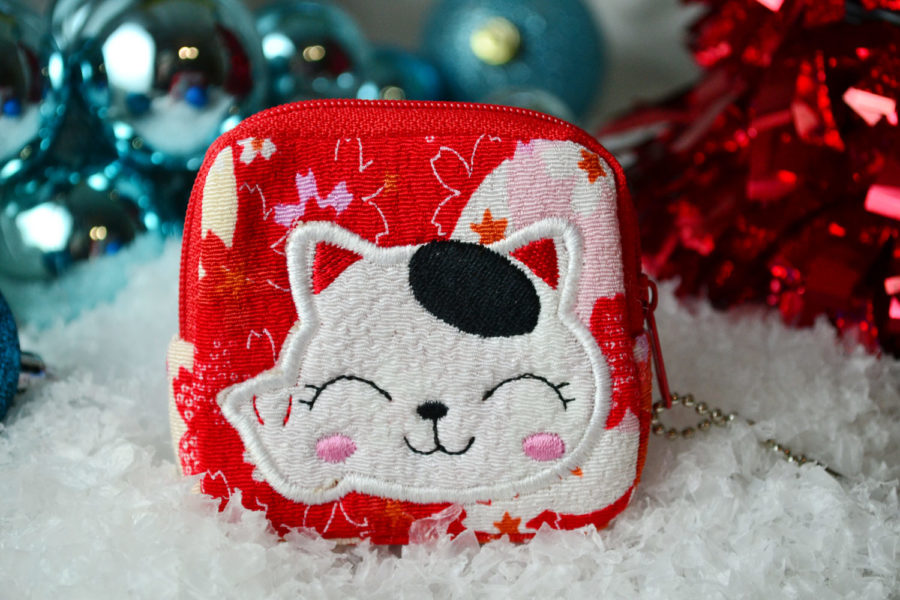 This petite coin purse features kimono fabric — and the face and beckoning hand of Maneki-Neko or Beckoning Cat whose outreached paw brings good fortune to his owner. A great under $10 gift for your favorite cat lover, this coin purse also makes a perfect travel accessory for jewelry.
Written by Tamar Arslanian and beautifully photographed by Andrew Marttila, this stunning book looks at 40 felines that inhabit the city's bodegas and bookstores and much more. Great for the travelers on your list!
You know how much we love black cats…and this book features over 100 from around the world (including some Internet-famous black cats you'll recognize such as Cole and Marmalade). Edited by Layla Morgan Wilde of Cat Wisdom 101, this nonprofit book benefits shelter pets!
Shop our exclusive line of engraved cuff bracelets and build your own stack! Made of stainless steel, the bracelets are adjustable for most wrist sizes and are sold boxed and ready for gifting. Every sale benefits shelter pets–and includes a card with a photo of a cat sponsored by PawZaar!