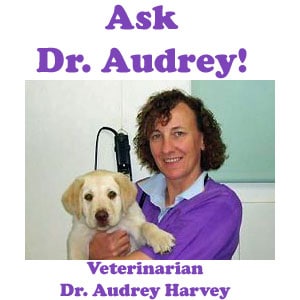 Dear Dr. Audrey,
My cat has two claws that won't retract! I hear them clicking when he walks across the floor. Should I just keep them trimmed or should I be taking any other precaution to make sure he doesn't hurt himself?
There's nothing that can be done to make your cat's nails retract, and I don't think declawing is a good idea under these circumstances – there can be complications from this surgery and it is very painful. The best option is to just keep trimming them as you need to.
If he is scratching your floor or furnishings then you could put on some Soft Paws. These are soft rubber tips that are glued on a cat's claws. They cause no pain, and prevent scratching. This may be something you and your cat just have to manage with a set of nail clippers when your boy's nails get too long. Most cats tolerate a manicure very well, and it shouldn't cause him too much stress.

Do you have a question about your cat's health? Ask Dr. Audrey using this online form
The purpose of this column is to educate. CatTipper shall have neither liability nor responsibility to any person or entity with respect to any loss or damage caused or alleged to be caused directly or indirectly by this site. This column does not replace the importance of specific advice from your own veterinarian. If you have any concerns at all about your cat's health, please make an appointment with your vet. .