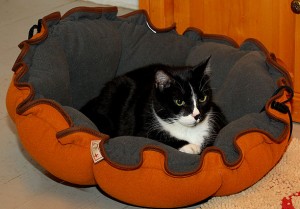 As you recall, two weeks ago Felix had a urinary tract blockage that sent us straight to the veterinarian. It was an emergency situation and one that kept him hospitalized for three days, two of them catheterized and on an IV.
During Felix's stay, we talked with our veterinarian daily as we went up to get Felix to eat. Felix had been on prescription dry food for the past eight years but, since this problem arose again, we knew it was time for a change.
We talked with our vet about changing Felix's diet to an all-canned cat food diet. Since cats typically won't drink enough water on their own (and we even have a Drinkwell fountain to encourage all the cats to drink more), they can get a great deal more water by eating canned food compared to dry food.
When we picked up Felix, we told our vet that we wanted to switch Felix to an all-canned diet and she printed out a list of canned cat foods that are low carbohydrate and lower calorie than many other foods.
We're not recommending any of these foods in particular–you need to talk with your own vet for recommendations–but we wanted to share this list with our readers. Many also recommend reducing fish in your cat's diet (although you'll see several fish varieties below) so talk with your vet for recommendations regarding your specific cat.
Several of the foods on the list below are easy to locate brands (and ones you'll find coupons for if you look around). Most importantly: talk with your vet about the options for feeding your cat to prevent these problems!
Friskies
Chicken and Tuna Dinner
Classic Seafood Entree
Country Style Dinner
Flaked with Tuna and Egg in Sauce
Flaked with Tuna in Sauce
Kitten Mixed Grill Formula
Liver and Chicken Dinner
Mariner's Catch
Mixed Grill
Ocean Whitefish and Tuna Dinner
Poultry Platter
Salmon Dinner
Sea Captain's Choice
Special Diet Beef and Chicken Entree
Special Diet Beef and Liver Entree
Special Diet Ocean Whitefish Dinner
Special Diet Turkey and Giblets Dinner
Special Diet with Salmon
Supreme Supper
Turkey and Giblets Dinner
Fancy Feast
Beef and Chicken Feast
Beef and Liver Feast
Chopped Grill Feast
Chunky Chicken Feast
Chunky Turkey Feast
Cod, Sole, and Shrimp Feast
Filet & Pate Beef and Chicken Feast
Filet & Pate Chicken and Seafood Feast
Filet & Pate Salmon & Tuna Feast
Flaked Fish & shrimp Feast
Flaked Ocean Fish Feast
Flaked Salmon & Ocean Whitefish Feast
Flaked Trout Feast
Flaked Tuna Feast
Flaked Tuna & Mackerel Feast
Gourmet Chicken Feast
Ocean Whitefish & Tuna Feast
Savory Salmon Feast
Seafood Feast
Tender Beef Feast
Tender Liver and Chicken Feast
Turkey and Giblets Feast
Merrick
Cowboy Cookout
Grammy's Pot Pie
Ocean Breeze
Southern Delight
Surf N Turf
Pro-Plan
Kitten Chicken and Live Entree Classic
Adult Cat Sardines and Tuna Entree in Aspic
9-Lives
Chicken and Beef Dinner
Flaked Tuna in Sauce
Ground Chicken and Seafood Dinner
Ground Chicken and Tuna Dinner
Ground Chicken Dinner
Ground Liver and Bacon Dinner
Ground Super Supper
Ground Turkey and Giblet Dinner
Ground Turkey Dinner
Ocean Whitefish and Tuna Dinner
Ocean Whitefish Dinner
Prime Entree with Real Salmon
Prime Entree with Tuna and Shrimp
Prime Grill with Beef
Royal Canin
Calorie Control CC-38
Recovery RS
Urinary SO 30
Triumph Pouches
Turkey Giblets in Gravy
Tuna in Gravy
Mixed Grill in Gravy
Chicken Dinner
Beef in Gravy
Whiskas
Chicken and Tuna Dinner
Chicken Dinner
Seafood Kitty Chowder
Seafood Seaside Supper
Seafood with Salmon
Purina Prescription