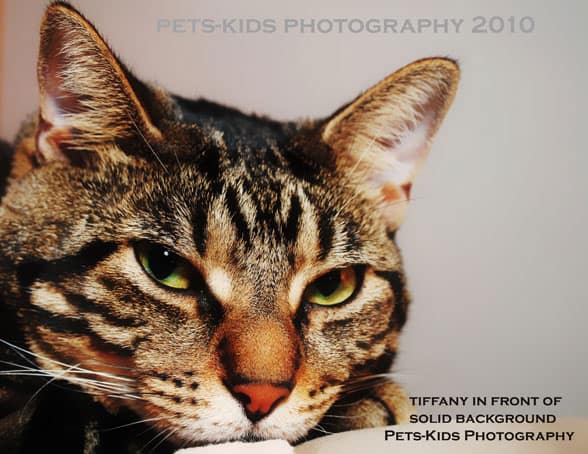 Yesterday, we launched a five-day series by Pets-Kids Photography LLC with a tip about being prepared to take lots of photos of your cat. Today we continue with a look at choosing a background for your cat photos:

TIP #2 Present a solid background so that your cat can stand out in the picture.
 You can still achieve a clean, studio-looking shot taken in your own home. Before taking a picture of your cat, evaluate the areas of your house where the cat likes to be in.
Also choose a place where the background is clean and with minimal things (for example, just one vase or one, big plant).  I would suggest taking out everything that is behind the cat.  Take out the newspapers on the floor or the shopping bags lying around.  Look at corners of your house where the solid walls make a nice backdrop.
Once you identify the spots for photographing,  place your cat in that desired spot. If your cat will not follow your direction, try placing the pet bed or favorite blanket there. If that still does not make the cat pose, put a little catnip on the pet bed. Caution about the amount of catnip because unless you want the cat to be playful and active during the shot, the catnip will get the cat lively. (PS Action shots are just as wonderful as posed, still shots.)
If you are a big cat lover like me, you will want to take photos of your feline baby in different poses and actions!
Using patterns effectively in the background
 If you do want to include patterns in the background (i.e. from a pillow or from the curtains), keep a distance (10 feet or more) between the cat and the background in order to blur the background images. You want to blur the background to minimize distractions that will compete with your subject.
Tomorrow: Light or dark background?
About the Author: Pets-Kids Photography LLC (West New York, NJ) specializes in pet photography with modern art infusion. Whether it is a family or pets or a family or kids, Pets-Kids Photography celebrates today's modern definition of family. Pets-Kids Photography donates pictures of adoptable pets on behalf of local animal rescue groups.
For more information:
Photo courtesy Pets-Kids Photography