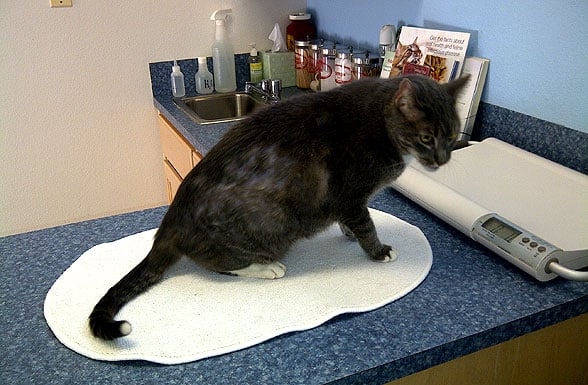 I am going to be the first to admit that I haven't always had an easy time giving medicine to our cats. It's not from lack of experience; through the years we've had many cats who've been on daily medication. Some have been easier to pill than others. Elaine, our sweeter than sweet black and white fluffball, was on heart medication the second half of her life and took her pills like a champ. Kit Kat, our former stray who underwent brain surgery for a tumor then lived to a ripe old age, took all kinds of pills without fuss.
But then there are cats like Linus and Felix.
Both Linus and Felix are on daily medications; Linus takes a morning pill to control his barbering issues and Felix takes a twice-daily pill for hyperthyroidism. As with most medicine for cats, we received their medication in pill form. "Ahh," I though, "I'll just take it to a compounding pharmacy and have it compounded into a liquid."
I took Felix's medication–at that time an antibiotic he was taking after extraction of numerous teeth–to the compounding pharmacy in our town and had it made into a liquid so I could give it out by dropper. That option created two problems: he hated the taste and I was worried sick that I'd jab him in his sutured gums with the eye dropper.
The next option was the old towel-wrap solution. Using an oversized bath towel, I swaddled a cat in the towel and gently used one hand to pry open the jaw and the other hand to pop the pill inside. That method also created two problems: although I sat on the floor and held the cat between my knees, I basically needed more hands…and it turned the entire situation stressful for the cats (and for me.) Felix was pretty good but, even swaddled in the towel, Linus wouldn't take the pill without a struggle.
I eventually got so good at the towel method that I was able to pop the pills in Felix and Linus' mouth without a struggle…but John didn't have the same luck. I had to travel quite a bit this fall so I decided that we needed a new method for the pill routine. I now use Greenies Pill Pockets.  The soft treats are cup-shaped, allowing you to pop the pill inside then squeeze the treat closed. Both Felix and Linus love the taste and take them as a special "treat"…no more wrestling!
Disclosure: This is a sponsored post for Vet-Medic.com.