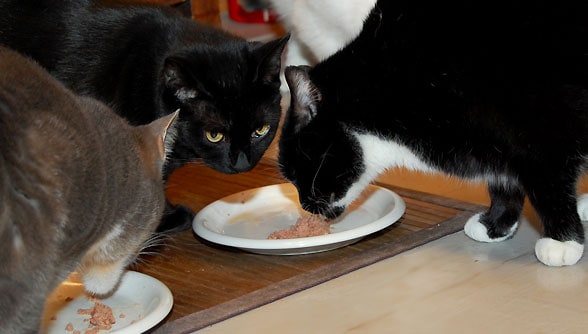 This is a sponsored post; we have been compensated by Hill's Pet Nutrition. Hill's Pet Nutrition, Inc. is not responsible for the content of this article.
In most households, meal time is a very special occasion. With their internal clocks, cats are generally spot-on when it comes to anticipating meal time, whether morning, noon or night.
When do YOU feed your cats? In our household, we have a fixed routine:
Morning feeding. When we get up, John feeds the cats a mixture of wet and dry foods; Felix and Linus get their daily medication. (This is the first of two pills for Felix.)
Mid-day snack. While we're at our desks, the cats come by for a quick treat right after lunch. It started as a way to help the cats and dogs get along; when everyone goes upstairs after lunch, they all receive a treat for good behavior. Now they all get along (most of the time) but the mid-day snack routine continues.
Late afternoon feeding. When we stop for the day and go back downstairs, the cats know it's time for their dinner. (The dogs don't eat until after our evening walk.)  They get a combo of dry and wet foods.
Late evening snack. Just before bedtime, Felix takes his second pill of the day. To encourage this pill-taking, treats are given…and, of course, you just can't give one cat treats without sharing with everyone.
In the past, we've been free-feeders, leaving food out for the cats to eat as they choose. However, Felix is now on a prescription diet (and we have to keep a close eye on Coco's waistline) so we haven't been free feeders in several years.
Feeding Wet Food, Dry Food, and Cat Treats
Hill's would like you to know that feeding a combination of wet cat food and dry cat food plus cat treats throughout the day is fine…but they need to be a complementary set of foods. The Ideal Balance brands–which include wet and dry foods plus treats–help you provide your cat balanced nutrition. All the Ideal Balance products are made with NO corn, wheat or soy and NO artificial colors, flavors or preservatives.
You can choose to Hill's dry pet food with one of the many varieties of wet food for an extra special and tasty meal for your cat; wet food is also a great way to help picky eaters transition to a new food. You might try Hill's® Ideal Balance™ Grain-Free Natural Chicken & Potato Recipe Adult topped with a few spoonfuls of Hill's® Ideal Balance™ Poached Salmon Recipe.  Or perhaps your cat would prefer a can of Hill's® Ideal Balance™ Savory Venison Recipe mixed with Hill's® Ideal Balance™ Natural Chicken & Brown Rice Recipe Adult. Like our own menus, cats often like variety in their list of foods–and switched among the balanced foods in the line ensures that your cat continues to get the nutrition that he requires.
Try Hill's Ideal Balance
Would you like to try out Ideal Balance with your cat? Check out our giveaway for a chance to win one of TWENTY Ideal Balance baskets including wet and dry foods, treats, a bowl, and a blanket for your pet! Good luck!