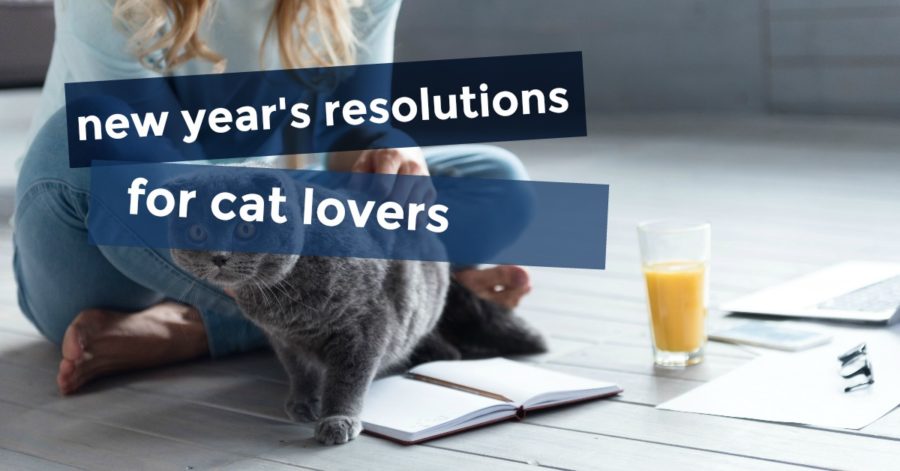 As we count down to 2018, it's time to look ahead to the coming year, a time of new starts and new opportunities–including ways to improve your cat's life as well. Here are six new year's resolutions for cat lovers that can help your cat, homeless cats–and YOU!
Live in the Moment
Whether you're feeding your cat, snuggling with her on the couch, or enjoying a little play time, be present. It's so easy to let our minds wander or to pick up the phone for a quick check–but we owe it to our feline family members to concentrate on our cats and not just be on autopilot.
Maintain a Fresh Litterbox
No one likes a smelly bathroom, and that means scooping and scooping some more. Resolve to keep your cat's box extra clean in the coming year; check out Cats Incredible ammonia-free cat litter to prevent the formation of ammonia before it ever forms in the box.
Make Time for Play
Whether you buy your cat a new toy or transform a box or paper sack into a cat castle, look for opportunities to PLAY. It's good for your cat–and good for you as well.
Help Homeless Cats
Whether you're feeding a feral cat colony, volunteering at your local shelter, or looking for items around your home you could donate to assist homeless cat, you'll find so many ways to help. Also, as you make your everyday purchases, support companies that give back to help homeless pets, companies like Lucy Pet Products whose sales fund the Lucy Pet Foundation, working to spay and neuter pets to reduce the homeless pet population and funding flights like those that have flown so many homeless pets to safety in the wake of Hurricane Harvey.
Take Your Cat in for a Wellness Check
Sadly many cats never visit the veterinarian except during times of distress. Resolve to make an appointment for a wellness check for your cat and to maintain a regular schedule of vet visits.
Make an Emergency Plan
The numerous natural disasters of 2017 have shown everyone just how important it is to have an emergency plan for our pets. If you can't make it home, do you have a plan for a friend or neighbor to evacuate your cat? If you are home when disaster strikes, do you have a bag you can grab and go with your cat–and a plan for a place to go where you can stay together? Spend a few minutes making a plan that hopefully you'll never need but which could save a life in the event of an emergency. This is an easy resolution to keep–sit down and make your plan than you can call this one a success!
Make 2018 a great year for you AND your cat!
This post is sponsored by Cats Incredible ammonia-free litter, a product of Lucy Pet Products.  Watch for Lucy Pet Products on the upcoming 2018 Rose Parade when Lucy Pet Products honors amazing animals who show us all what it means to be a true hero!