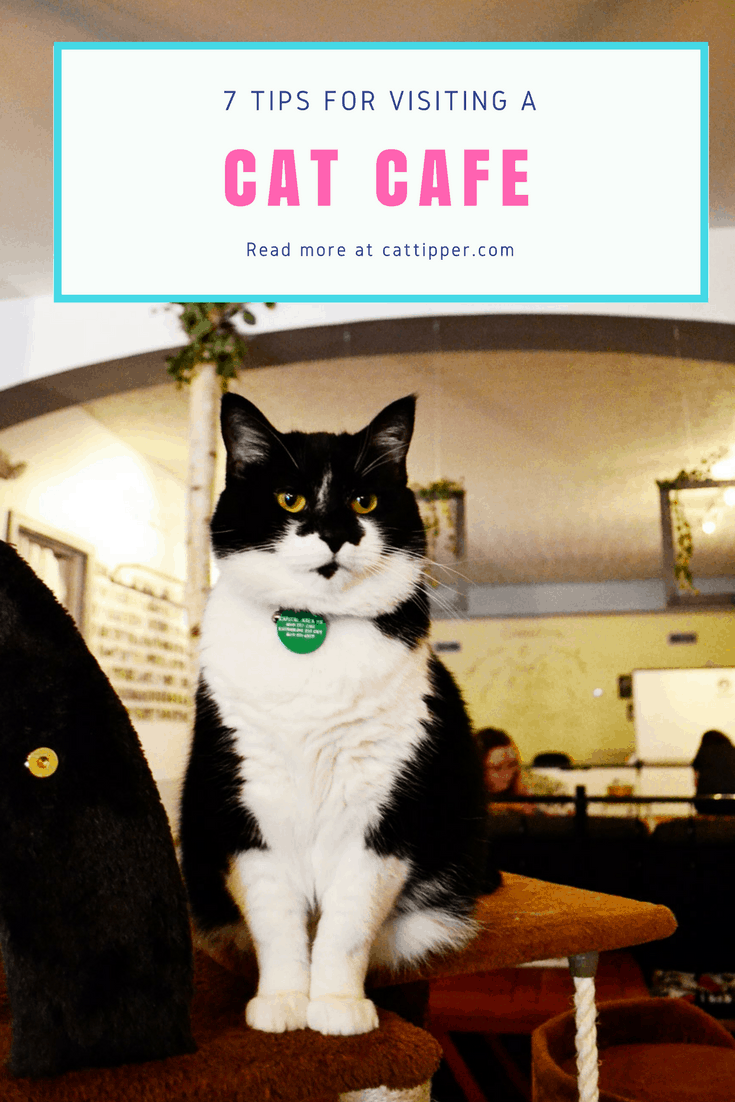 Rachael Ray Nutrish has sponsored this post, but all opinions are my own.
This past week, I had the opportunity to visit the Eat Purr Love Cat Cafe in Columbus, Ohio with friends from Nutrish. You're probably familiar with this cat cafe from our Cat Cafe Directory, one of the many cat cafes across the country that have opened their doors in the past year.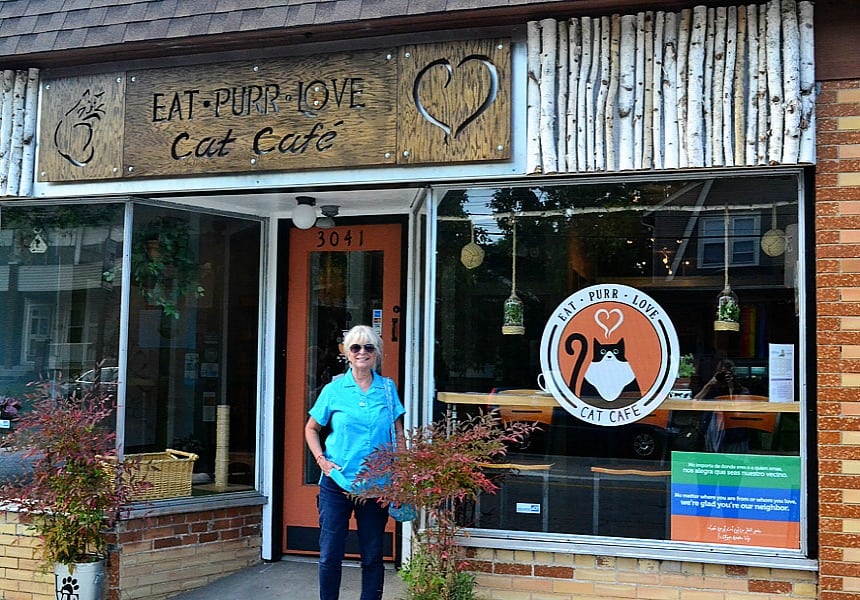 If you've never visited a cat cafe but you're curious (as a cat) about these popular installations, here are a few tips for planning your visit:

Learn if the Cafe Serves Food and Drink
Because of local health regulations, the availability of food and drink at cat cafes will vary between facilities. Eat Purr Love sells vegan baked goods, coffee and soft drinks in its front area. Other cat cafes offer food trucks out front. Don't assume that you'll be sipping your coffee while petting the cats; these are sometimes separate areas in the cafes.

Determine if You Need Reservations
To avoid the risk of cats escaping, many cafes operate on a reservation system, ushering in new arrivals on the hour. Nutrish booked an hour for our group; we all entered through the double screen door entry to keep the population safely housed in their area and to prevent too many people from crowding into the cat area at once. Call your potential cat cafe before a visit to see if reservations are necessary.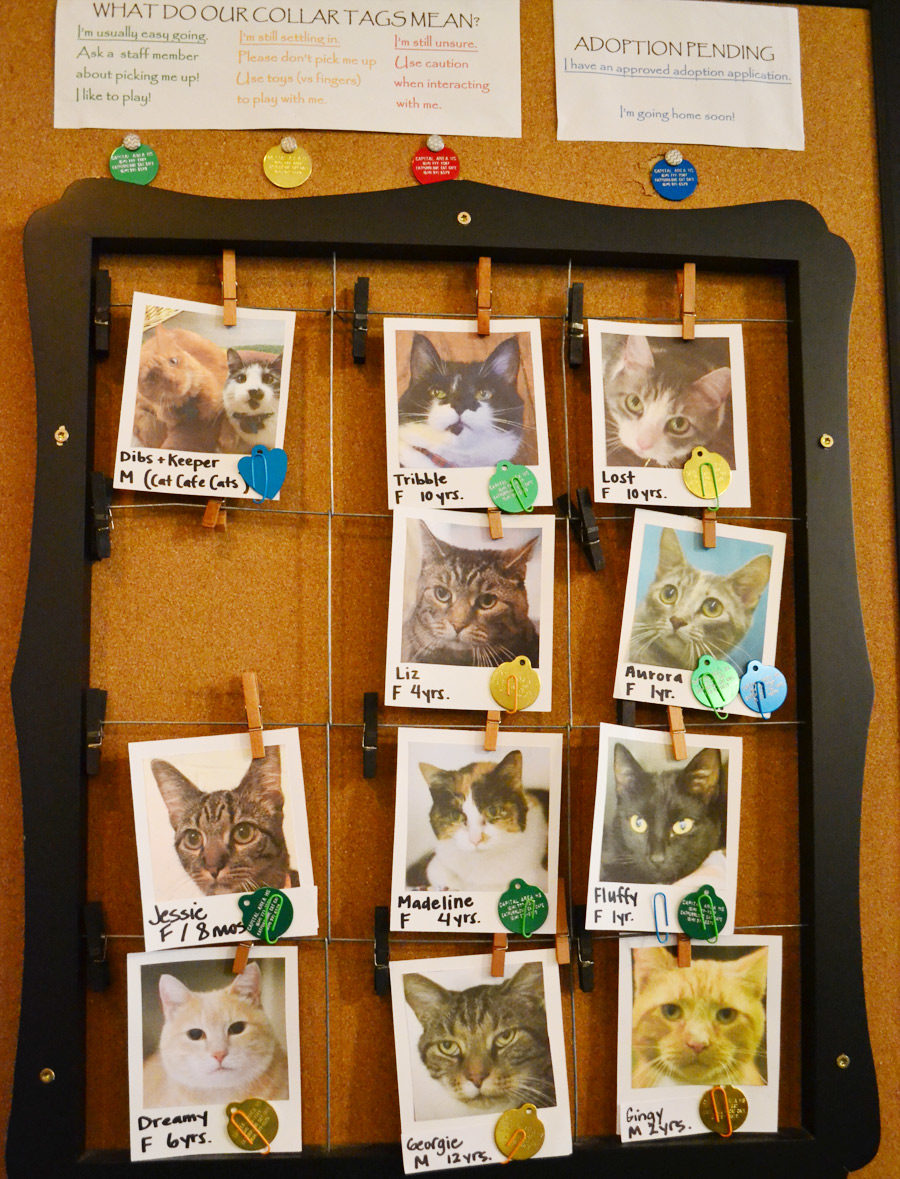 Consider a Cat Cafe for Adoption Opportunities
The majority of cat cafes house adoptable cats–although a few feature rescued cats who now call the cafe their forever home. Eat Purr Love Cat Cafe had 10 adoptables during my visit. They'll join the 200 cats the cafe has adopted out since it opened in late 2016! Adoptable cats are from The Capital Area Humane Society. In a cat cafe you'll be able to see which cats enjoy lounging about and which cats are ready to romp, something often more difficult to see in a shelter setting. If you're at all hesitant about visiting an animal shelter or feel that you might be overwhelmed on a shelter visit, a cat cafe can be a great alternative way to find a forever family member.

Learn More about Cat Temperaments
Just as some of us want to meet everyone at a party, others of us prefer to hang back and meet new people gradually. It's the same with cats. Eat Purr Love cats each wore a collar with a color coded tag to indicate whether the cat liked to be picked up, was still settling in and shouldn't be picked up just yet, or was really a hands-off kind of kitty. If you or someone you know is new to kitty behavior, a visit to a cat cafe can be a great way to learn more about cat body language–and the type of cat who would do best in your home. Did you gravitate more toward the laid back cats or could you just not get enough of the non-stop play of a more energetic kitty? A cat cafe can be a wonderful way to see what type of cat would be a good fit for you.

Keep an Eye Out For Decorating Ideas
I was amazed by all the creative and engaging enrichment activities Eat Purr Love offered their cat population. Not only was this Toy Central in terms of every track ball, cat tower, wand toy, and ball or plush toy, but this cafe also was home to inventive installations that offered the cats places to relax in privacy, enjoy a window view, peer down on visitors from elevated walkways, exercise on a wheel, chill out in a cat hammock, or dream of fishing with a view of the lighted aquarium, complete with goldfish.

Enjoy the Relaxation
Sit and watch the cats, pet the cats, photograph the cats–and even enjoy the Wi-Fi if you're so inclined. Eat Purr Love featured an art corner with coloring pages and tables to sit and enjoy a talk with fellow cat lovers. Some cat cafes schedule special events ranging from yoga with cats to painting classes. Whatever you do, enjoy the slow pace of the cafe and the relaxation that comes from being surrounded by felines.
Be Prepared to Fall in Love
Cat cafes offer a chance to see and interact with adoptables in a home-like setting–and it's hard not to quickly bond with these cuties. I fell in love with Fluffy, a one-year-old girl who reminds me so much of our Inca. If anyone in the Columbus area is looking for a sweetie to adopt who loves to cuddle, Fluffy's your girl!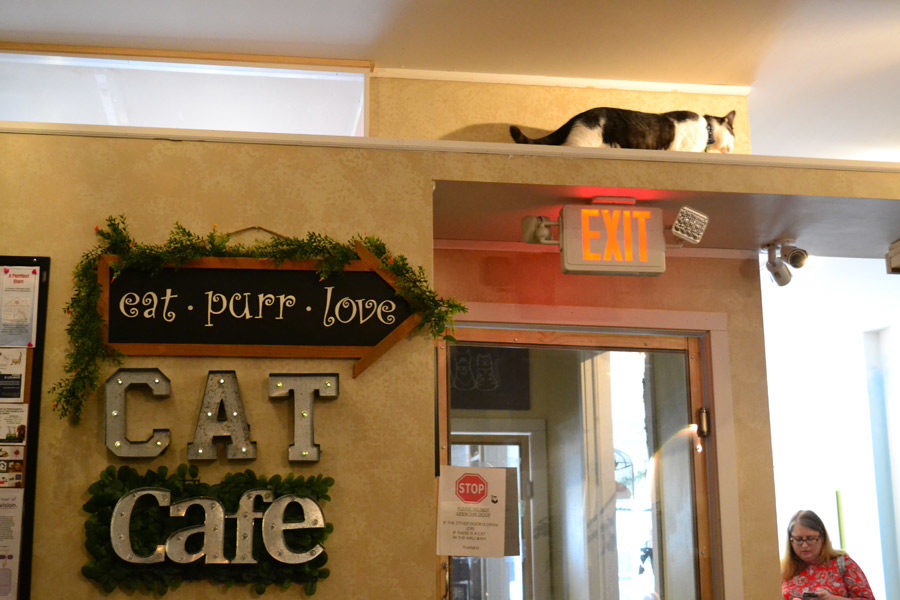 I'm so glad I had to chance to visit the Eat Purr Love Cat Cafe thanks to Nutrish, a company that has done so much to help adoptable pets. Next week, you'll hear more about some exciting donations that Nutrish has coming up (along with a sweepstakes you won't want to miss)–but these donations are just the latest in a long line of donations the Rachael Ray Foundation has made to help animals in need.
Just last month, the Rachael Ray Foundation awarded $1 million to help storm-ravaged areas. Austin Pets Alive!, the rescue that saved our kitten Jetty from an animal shelter evacuating from Hurricane Harvey, received $100,000 from the Foundation to continue their lifesaving work rescuing homeless pets from hurricane-damaged areas. At the same time, the Foundation awarded $100,000 to the SPCA of Texas, working to help both shelter pets and the pets of evacuees.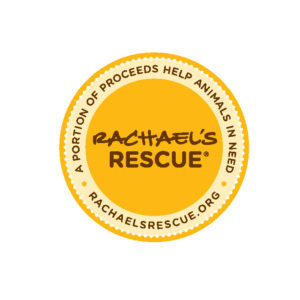 These donations are just some of the most recent contributions made to help pets in need–an effort that continues every day thanks to Nutrish purchases. Rachael's Rescue® was created for all of the forgotten pets – the ones who might not have someone who loves them as much as they deserve. A portion of proceeds from each sale of Nutrish is donated to The Rachael Ray Foundation, which helps animals in need through Rachael's Rescue. Through September 2017, Rachael's Rescue has donated more than $21 million dollars to pet charities and other organizations that do good for animals. The funds are used for food, medical supplies, treatments, and more for animals in need. Many more animals around the country need help, and through Rachael's Rescue, together we can make a difference in the lives of many four-legged friends.
It's all possible because of purchases of Nutrish pet foods and treats. Whether you're considering a visit to a cat cafe or an animal shelter to potentially add to your furry family, please be sure to help support the charitable work of the Rachael Ray Foundation with your purchases of Nutrish and follow the charitable efforts through these social channels: