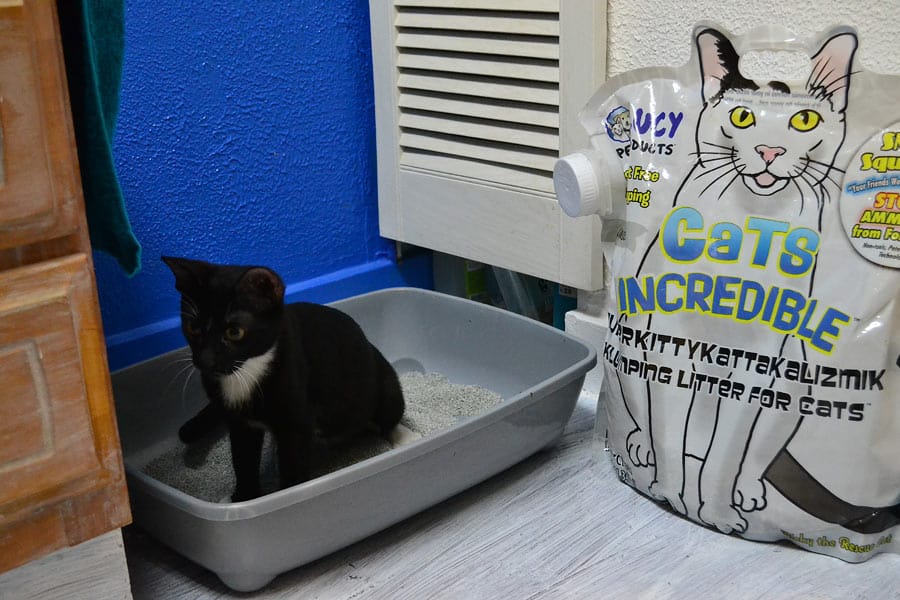 As you know, earlier this month we adopted little Jetty from Austin Pets Alive! Jetty had only been in the care of APA for two days when she came home with us; previously she'd  been at a shelter near the coast which was evacuated due to Hurricane Harvey.
That's a lot of changes in her three months on this planet but we had another change in store for her: a new cat litter. With its unsurpassed ability to prevent ammonia from forming in the litterbox, we wanted to change Jetty to Cats Incredible™ cat litter. With a kitten's sensitive nose, it was especially important to us not to expose to her dangerous ammonia levels and to set her up for a lifetime of good litterbox habits.
We were unsure of the brand(s) of litter to which Jetty was accustomed to at the shelters. With all the many changes in her life, she'd probably been using multiple brands during her time in the shelter system. Because we didn't have a litter history on Jetty, we were able to just present Cats Incredible litter to her in a clean, fresh litterbox–and she was ready to use it!
IF Jetty had come to us with a history of using one brand of litter, we'd have slowly transitioned her to Cats Incredible with one of these techniques:
Offer multiple litterboxes with multiple litters.  The general rule of thumb is that you need one litterbox per cat in your household PLUS one more. Try the new litter in one of your litterboxes with your kitten's old litter brand in a second box. (If you have resident cats, keep Cats Incredible in the boxes and add a new litterbox with your kitten's old brand.) Some cats will change litter brands easier than others. Once your new kitten seems to like the new litter without issue, you can make all your litterboxes Cats Incredible.
Mix the old with the new. Some cats do well if you transition them from one litter to the next by gradually adding the new litter to other old over a three- or four-week period. Start with just a quarter of Cats Incredible litter then each week increase the proportion of the old to the new.
Add the old on top of the new. To provide the same tactile sensation that your cat is accustomed to, you can fill the litterbox with the new Cats Incredible litter then TOP it off with a layer of the old brand. Your cat's paws will feel the familiar old litter when she steps in the box then be introduced to the new litter as she digs.
I am SO happy to say that Jetty has taken to the litterbox–and her new home–like a champ. She's loving Cats Incredible!
Lucy Pet Helps Hurricane Harvey Pets
With Jetty's history, it is especially touching to us that Lucy Pet Products and Lucy Pet Foundation are doing SO much to help the thousands of pets displaced by Hurricane Harvey in our home state of Texas. Donations and product purchases are funding air lifts like this one to help homeless pets find a forever home:
Save $2 on Cats Incredible
Visit the Cats Incredible page on the Lucy Pet Products website, sign up for the newsletter, and receive a $2 off coupon!
Learn More About Cats Incredible
We are proud that Lucy Pet Products is a CatTipper sponsor. All statements and opinions are entirely our own.