Our cats use Cats Incredible litter from Lucy Pet Products for three reasons:
This litter is specially formulated to prevent the formulation of ammonia in the litterbox. Ammonia is much of the reason behind that litterbox smell, and it's harmful both to the feline and human residents in your home.
It's made by a company that gives back with every purchase. Lucy Pet Products founded the Lucy Pet Foundation which works to spay and neuter needy pets.
Cats Incredible is a clay litter, made from sodium bentonite clay mined in the United States.
What is Sodium Bentonite Clay?
A look at Cats Incredible litter and you can see that, yes, this is made up of bits of clay. The clay in Cats Incredible is mined from the largest known deposit of Sodium Bentonite Clay located in Fort Benton, Wyoming. Located under a shallow layer of soil, this clay is safe and non-toxic, formed from aged volcanic ash.
The beauty of Sodium Bentonite clay is that it absorbs liquid like a sponge. If, like us, you live in a rural setting, you may have seen stock ponds (called stock tanks in Texas) under construction. They're first lined with a layer of Sodium Bentonite Clay before a lining of caliche. It all works to hold in the moisture–just what's needed in your cat's litterbox.
Sodium Bentonite Clay is mined by removing the soil, setting it aside, and then removing the clay. When the mining is completed, the Fort Benton facility returns the soil to the land and readies the fields for agricultural use once again:
Photo courtesy Lucy Pet Products
Our Cats Like Clay Litter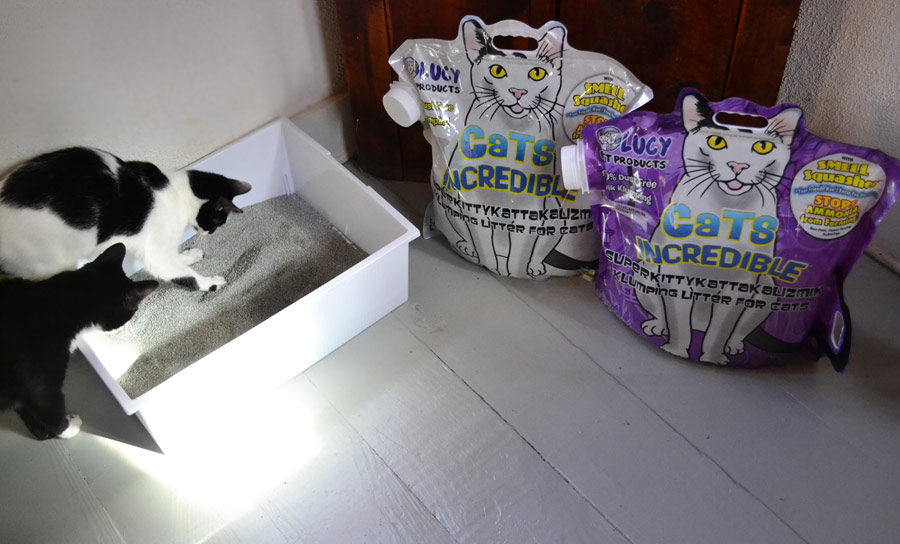 But the true judge of litter in our house are our cats–and we love that Inca, Ochi and Lucky all give clay litter a big paws up. The low dust and lack of ammonia are big selling points for us but we also love that they naturally take to clay litter.
Ochi has been known to eat things we don't want her to eat, too, so we're glad not to have to worry about her chowing down on corn or wheat litter. We're also happy not to have the worries of insects in corn or wheat litter, a real concern during these hot summer months.
Clay litter is definitely the choice of our cats–and a happy litterbox makes for a happy home!
Lucy Pet Products is a CatTipper sponsor. As always, we only share products that we use in our own home with our pets. We love companies whose mission aligns with our own–giving our pets the best possible products and giving back to those who need a helping paw!