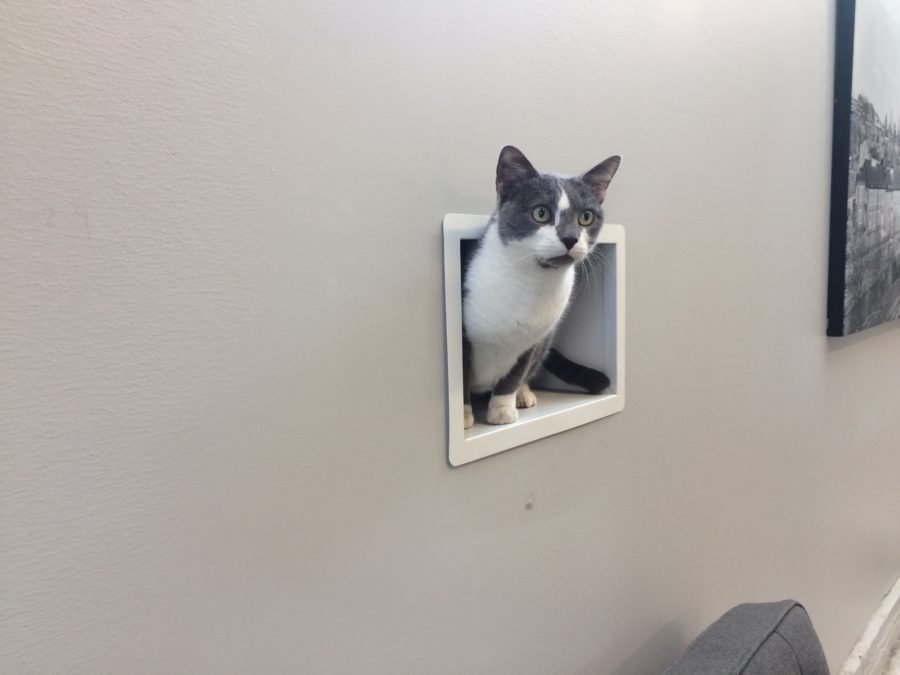 On September 30, Baltimore will welcome the first cat cafe in the city to open its doors to those who adore our feline friends– Charm Kitty Cafe!
Cafe Menu
Before visiting cats who are enjoying a taste of the good life in the cafe's special kitty quarters, visitors can nom on tasty treats from Dark Side Cookies (which will offer vegan options for customers) and sip a drink from Zeke's Coffee.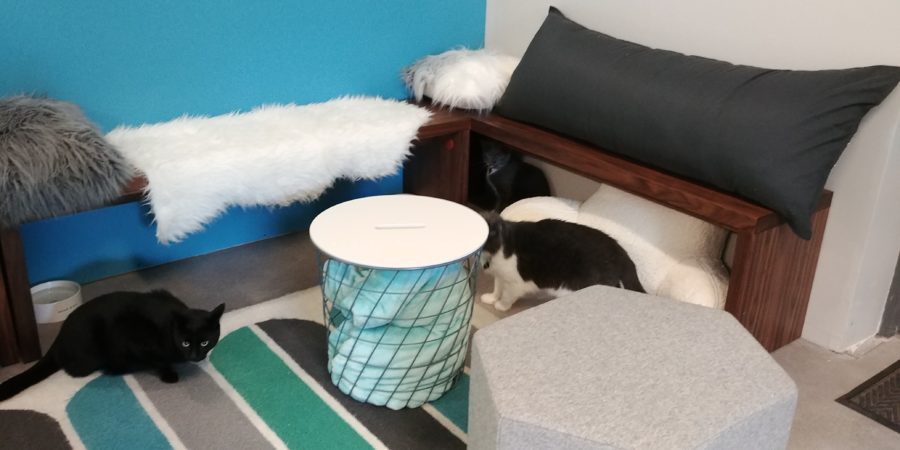 The Cats of Charm Kitty Cafe
All of the felines who will be looking for a forever family to love while at the cafe are from the Baltimore Humane Society, a no-kill animal welfare organization which in 2017 is celebrating its 90th year of helping cats and dogs in need. Potential pet parents can apply to adopt one of the cats while onsite at the cafe. Later a Baltimore Humane Society Adoption Counselor will contact the applicant and process the application. Adoptions will take place at the cafe on certain days of the week.
Among the meowing menagerie of eight cats who will greet customers on opening day will be:
Frankie: This two-year-old black and-white cat is a social butterfly who will tug at your heartstrings when she paws at you for attention.
Night: Two-year-old Night is hoping that time spent at the cat cafe will lead to the dawn of a new day in his life! This handsome black cat is an active guy, but when he isn't playing the philosophical side of his personality comes out as he sits on a windowsill and watches the world go by.
Paris: Named after The City of Light, this pretty gray and white 3-year-old will light up your life! Accustomed to living in a home with children, Paris is a quiet kitty who craves the company of humans.
Salem: An amateur ornithologist who loves to indulge her favorite hobby by sitting at a window and watching birds flit past, black cat Salem is almost three years old.
Salem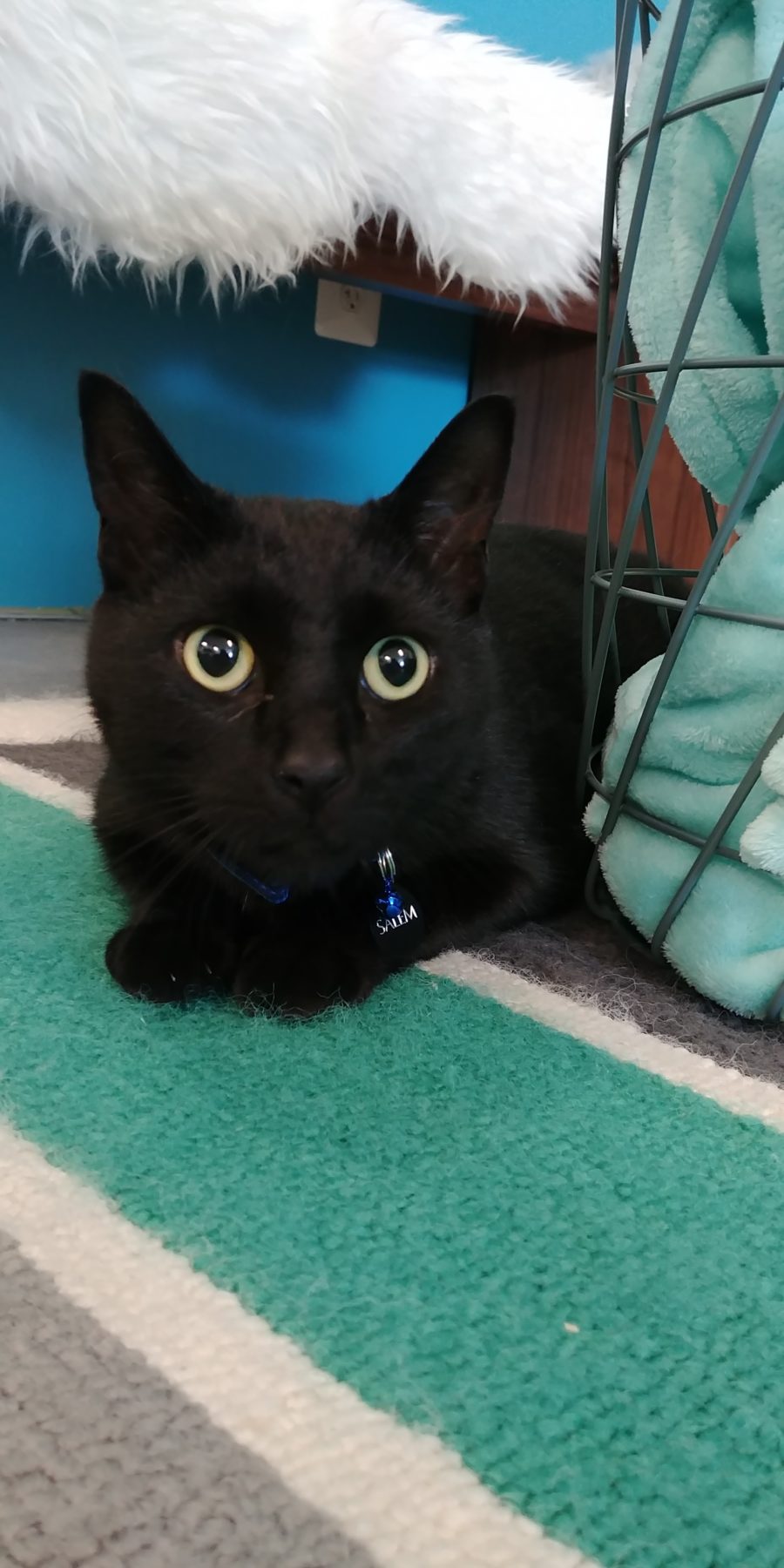 Scamp: As the old saying goes, with age comes wisdom, and 11-year-old Scamp is ready to share all he knows about the topic of enjoying life. This gorgeous gray and white guy has previous experience living with both children and other cats.
Star: A lap cat who could easily lap up the limelight as a celebrity, eight-year-old Star (who lived with both older children and another cat at her previous home) is a beauty with snow white fur and emerald green eyes. Much more than just a pretty face, Star wants you to know that she also has a lovely personality. A lady with a lot on her mind, Star is talkative, but also enjoys a little "me" time thanks to her independent nature.
Star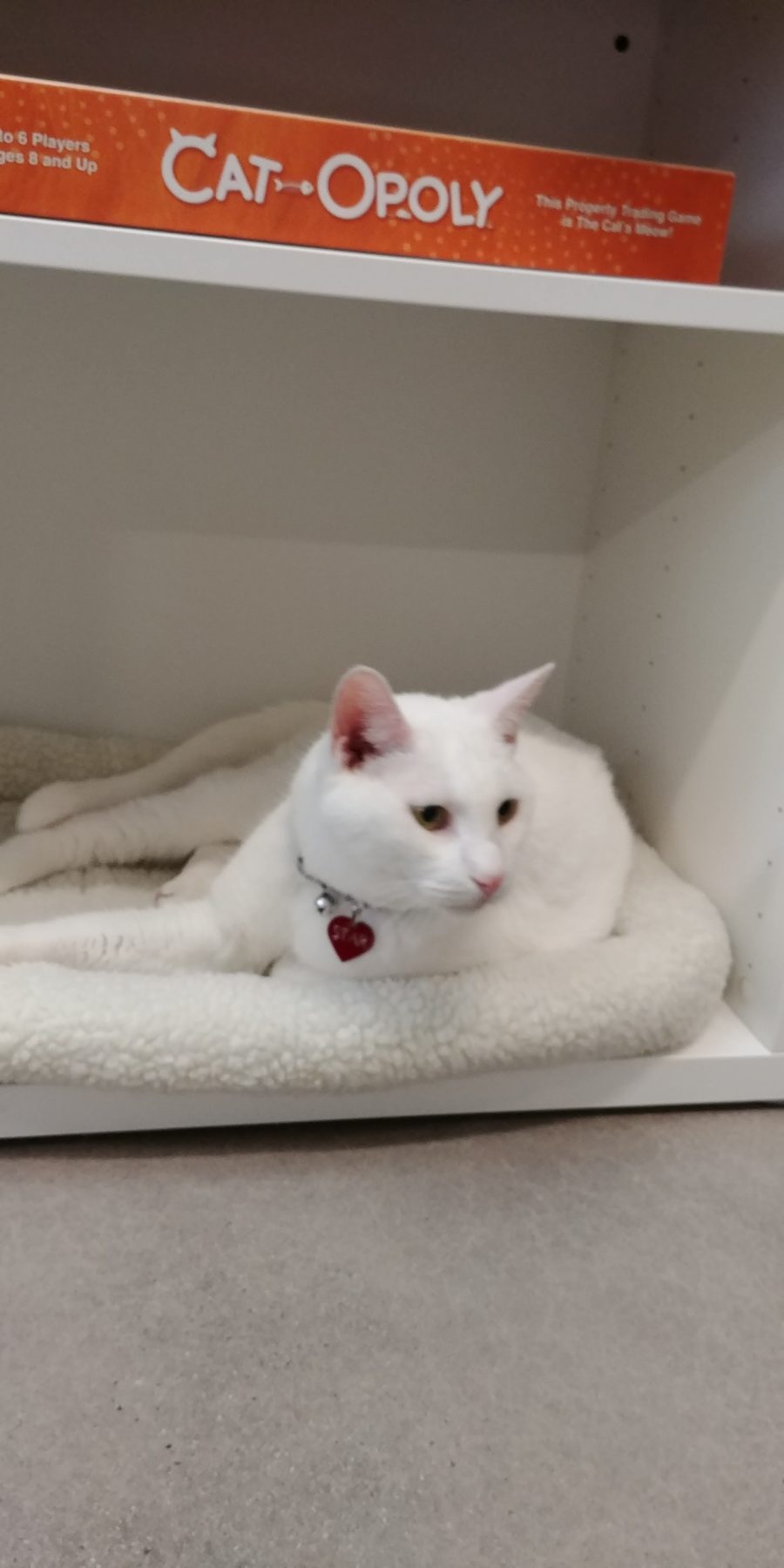 Special Events
Our pals who purr aren't the only ones who get the chance to play at Charm Kitty Cafe, as the venue will offer game nights complete with cat-themed board games! For those who want to perfect their downward dog pose, 90 minute yoga classes will include pre-session snuggles with adoptable felines and post-workout play with the cafe's clowder of kitties.
Charm Kitty Cafe is located at the new Whitehall Mill in Hampden at 3300 Clipper Mill Road, Baltimore, Maryland.
NOTE: Children must be at least seven years old to enter the cafe, and a waiver must be signed for youngsters between the ages of 7 and 17.
Photos courtesy Baltimore Humane Society